Cigarticles
Local Flavor #1: Shelly's Back Room, Washington DC

January 8, 2009
David Carpenter

As it becomes harder and harder to travel the country and find cigar-friendly establishments, we at Cigar Weekly are beginning a series of articles that will provide our readers with insight on where to smoke on their travels. The first in this series takes us to Washington D.C., and Shelly's Back Room.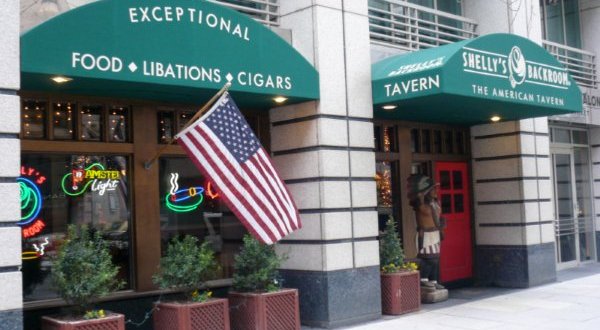 Just after New Years, I sat down and smoked a Romeo y Julieta Reserve Maduro with Bob Materazzi, owner of Shelly's Back Room, as we discussed what has made Shelly's a success. First, a little history... In the late 1990's, Shelly Jacobs opened a few restaurants called Shelly's Wood Roast. In addition to full service dining fare, Shelly's Wood Roast also featured a lounge called The Back Room, where diners could grab a drink and a smoke before or after their meals. Shelly's Wood Roast is no longer around, but The Backroom has survived thanks to Bob's purchase of the business in 2000. In the time since, Bob has continually improved on The Back Room by updating the menu, increasing the quality of libations at the bar and employing a friendly wait staff to take care of any customer's needs.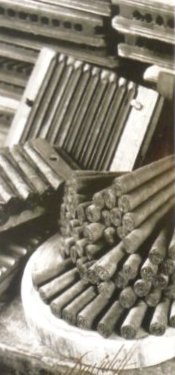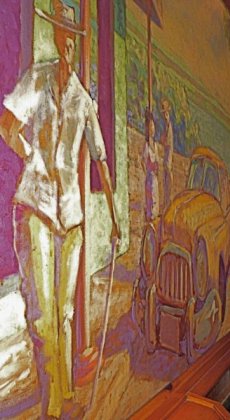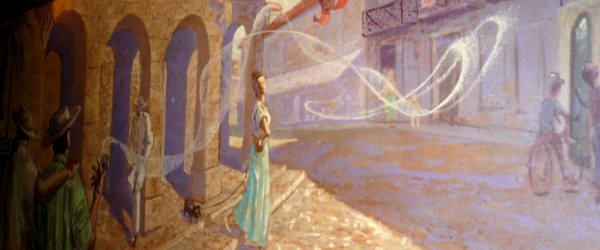 A truly stunning hand-painted mural of Old Havana will grab your attention as you find a seat at the bar, and you will realize that Shelly's Back Room is a one-of-a-kind restaurant in Washington D.C. It is a comfortable retreat not only for the cigar smoker, but also for anyone who just wants to unwind. The state of the art air-purification system rotates air every 90 seconds, making each guest's visit to Shelly's comfortable. The casual but elegant atmosphere, with the feel of a proper smoking lounge, provides guests with relaxing couches and overstuffed chairs. This is the kind of place where Jamie, the bartender, knows his customers by name, keeping their drinks full and the conversation flowing. I had the chance to talk to Maryanne, a government employee who has been coming to Shelly's since its doors opened. Given the smoking regulations in federal buildings, Shelly's is one of the few places she can come to have a cigar and enjoy lunch.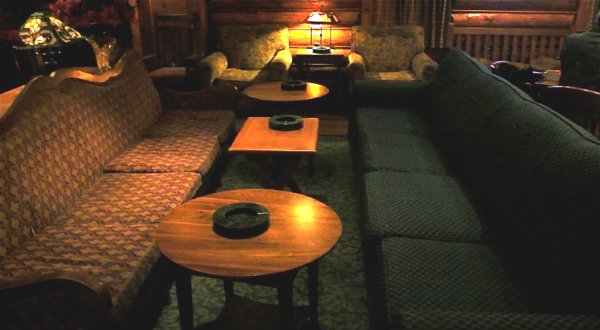 Shelly's menu features a particularly impressive selection for both lunch and dinner. Guests are presented with a broad selection of appetizers, soups, salads, sandwiches and entrées. You can expect hearty, well-presented American-style cuisine. A favorite appetizer is the Campfire Wings - one pound of roasted (not fried), seasoned and marinated chicken wings with honey mustard sauce. Lunch regulars go for the Shelly's Burger - a half pound of seasoned Angus ground chuck with bacon and cheese, served with fries and a pickle. As for entrées, diners can chose anything from seafood to jambalaya to Angus Beef Tenderloin. Honestly, there's not a bad meal on the menu.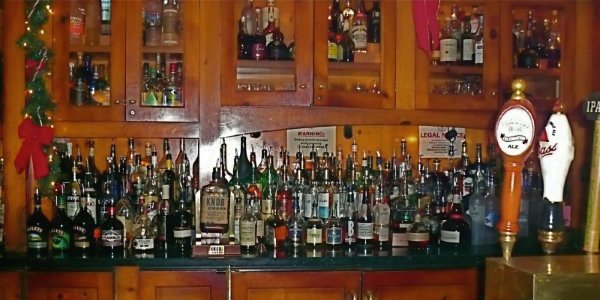 The drink list at the bar is equally impressive. It features over 50 Scotch selections, rare Bourbon, Rum, Port, cordials and premium wine. 25 different beers are offered, and the bar staff will mix a cocktail any way that suits you.

Shelly's also carries a large selection of premium cigars. Given that DC laws prohibit smoking in restaurants, Shelly's is one of the few establishments to receive an exemption. Therefore, 10% of sales must come from tobacco-related sales. Shelly's doesn't charge cutting fees, but patrons are encouraged to buy a cigar from the humidor every now and then to ensure the establishment meets sales requirements. Regulars may also choose to lease one of 100 temperature and humidity controlled private lockers. For $600 a year and the purchase of $150 in cigars, users are provided with 4 access cards, anytime access to their locker and a customized tobacco leaf nameplate. Bob likes to keep his customer list closely-held. But if visitors wait around long enough, they're likely to see some interesting faces.

Typical clientele includes lobbyists, lawyer, and business people in downtown DC. But don't be surprised if you run into a few politicos or celebrities on your visit. In only the last few months, Bob has served the Governor of California, Arnold Schwarzenegger, and former Mayor of New York, Rudy Giuliani. Both the DNC and RNC held events here in the last year - how's that for bipartisanship?

What does the future hold for Shelly's Back Room? Well, in the short-term, Bob and his staff are preparing for the inauguration, and they expect to be pretty busy. They are typically busy on holiday and big event weekends. Bob has already been booked for three late-night parties during inauguration week. Long-term, Shelly's may be opening another location near the new Washington Nationals Stadium. But given the current economic climate, development in the area has been delayed, and those plans are on hold for the time being. When it does happen, however, customers can expect a carbon copy of the original - a comfortable space, quality menu and attentive wait staff.

CW Members at Shelly's: From left to right are lfg2nrg (Thom),
niceash (Rod), xrundog(Tim) and myself.
The Details:
Location:
Shelly's Back Room
1331 F Street NW
Washington, DC 20004
Phone: 202-737-3003
On the Web:
www.shellysdc.com
Hours:
Monday - Thursday 11:30am - 2:00am
Friday 11:30am - 3:00am
Saturday 12:00 - 3:00am
Sunday 12:00 - 1:00am
So, on your next visit to the D.C. area, I encourage you to come visit Bob, his wife Na, General Manager Tony Rubbo and the staff at Shelly's Back Room, and to take advantage of one of the nicest cigar lounges in the area.
____________________________________________________________________________
About the author: David Carpenter has been with Cigar Weekly for 5 years and, oddly enough, has been an avid cigar smoker for 5 years. He enjoys traveling, cooking, eating and hiking with his wife of 7 years, Brooke.