Cigarticles
SCHIP in Congress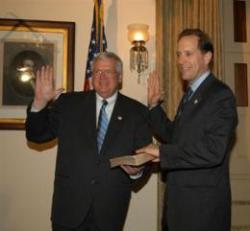 CAMP'S FLOOR STATEMENT ON CHILDREN'S HEALTH INSURANCE PROGRAM Jan 14, 2009
Mr. Speaker, I believe every American child should have access to quality health care. The Children's Health Insurance Program has done just that for those in families without the means to otherwise buy insurance on their own.
SCHIP was created as a bipartisan program, one I was proud to support. The bill before us today, however, not only threatens the core mission of the program - providing health insurance for low-income children - but creates a new entitlement that will demand higher taxes on all Americans in just a few short years.
Let me first state the obvious problem with this bill: a children's health program should not be used to cover adults, non-citizens, potentially illegal immigrants, and those making $80,000 per year.
There is another problem with the bill-one the majority hopes you ignore: this bill blatantly attempts to hide the true cost to American taxpayers. It is irresponsible and untenable to fund a children's health program with a revenue stream that is fast drying up. Increasing the cigarette tax, regardless of your support for such an idea, does not, will not and cannot cover the cost of this program.
The Democrats are blowing a giant cloud of smoke into the face of the American taxpayers, and I believe the impending tax increases that must come to cover this program will have us all in a severe coughing fit. The Democrats want you to ignore the fact that the percentage of Americans who smoke has been dropping for decades. But research and logic both show that raising the prices of cigarettes will lead to less smoking and fewer tax dollars coming into the federal treasury.
The only way for this funding scheme to work is if the Democrats find 22.4 million new smokers. I can't wait to see the look on Sen. Daschle's face when the Speaker tells the soon-to-be Health and Human Services Secretary that little tidbit.
In all seriousness, while its funding base is declining, SCHIP costs will increase exponentially. CBO predicts that SCHIP spending will more than double under the Democrats' proposal. The resulting gap between program spending and revenue becomes staggering - a gap Democrats will soon ask the American taxpayer to fill.
In closing, I'd like to add one final note. This bill represents a broken promise to lower and middle income Americans. President Elect Obama promised that no one making less than $250,000 per year would see their taxes go up.
Under the Democrats' proposal, a working class family with two adult smokers would face hundreds of dollars in additional federal tobacco taxes each year. We haven't made it to Inauguration Day and House leaders are already breaking this campaign promise. That might be a record even here in Washington, D.C.
Let's keep SCHIP focused on low-income children, let's not ask 22.4 million Americans to start smoking and let's demand a better, bipartisan bill to improve SCHIP. I ask my colleagues to vote no on this bill.
Representative Camp's web page
The vote:
FINAL VOTE RESULTS FOR ROLL CALL 16
(Democrats in roman; Republicans in italic; Independents underlined)
H R 2
RECORDED VOTE 14-Jan-2009 2:45 PM
QUESTION:
On Passage
BILL TITLE:
Children's Health Insurance Program Reauthorization Act of 2009
| | | | | |
| --- | --- | --- | --- | --- |
| | Ayes | Noes | PRES | NV |
| Democratic | 249 | 2 | | 5 |
| Republican | 40 | 137 | | 1 |
| Independent | | | | |
| TOTALS | 289 | 139 | | 6 |
---- AYES 289 ---
Abercrombie
Ackerman
Adler (NJ)
Altmire
Andrews
Arcuri
Austria
Baca
Baird
Baldwin
Barrow
Bean
Becerra
Berkley
Berman
Berry
Bishop (GA)
Bishop (NY)
Blumenauer
Boccieri
Bono Mack
Boren
Boswell
Boyd
Brady (PA)
Braley (IA)
Brown, Corrine
Buchanan
Butterfield
Cao
Capito
Capps
Capuano
Cardoza
Carnahan
Carney
Carson (IN)
Castle
Castor (FL)
Chandler
Childers
Clarke
Clay
Cleaver
Clyburn
Cohen
Connolly (VA)
Conyers
Cooper
Costa
Costello
Courtney
Crowley
Cuellar
Cummings
Dahlkemper
Davis (AL)
Davis (CA)
Davis (IL)
Davis (TN)
DeFazio
DeGette
Delahunt
DeLauro
Dent
Diaz-Balart, L.
Diaz-Balart, M.
Dicks
Dingell
Doggett
Donnelly (IN)
Doyle
Driehaus
Edwards (MD)
Edwards (TX)
Ehlers
Ellison
Ellsworth
Emerson
Engel
Eshoo
Etheridge
Farr
Fattah
Filner
Foster
Frank (MA)
Frelinghuysen
Fudge
Gerlach
Giffords
Gillibrand
Gonzalez
Gordon (TN)
Grayson
Green, Al
Green, Gene
Griffith
Grijalva
Gutierrez
Hall (NY)
Halvorson
Hare
Harman
Hastings (FL)
Heinrich
Herseth Sandlin
Higgins
Hill
Himes
Hinchey
Hinojosa
Hirono
Hodes
Holden
Holt
Honda
Hoyer
Inslee
Israel
Jackson (IL)
Jackson-Lee (TX)
Johnson (GA)
Johnson, E. B.
Kagen
Kanjorski
Kaptur
Kennedy
Kildee
Kilpatrick (MI)
Kilroy
Kind
King (NY)
Kirk
Kirkpatrick (AZ)
Kissell
Klein (FL)
Kosmas
Kratovil
Kucinich
Lance
Langevin
Larsen (WA)
Larson (CT)
LaTourette
Lee (CA)
Lee (NY)
Levin
Lewis (GA)
Lipinski
LoBiondo
Loebsack
Lofgren, Zoe
Lowey
Luján
Lynch
Maffei
Maloney
Markey (CO)
Markey (MA)
Massa
Matheson
Matsui
McCarthy (NY)
McCollum
McCotter
McDermott
McGovern
McHugh
McIntyre
McMahon
McNerney
Meek (FL)
Melancon
Michaud
Miller (MI)
Miller (NC)
Miller, George
Minnick
Mitchell
Mollohan
Moore (KS)
Moore (WI)
Moran (KS)
Moran (VA)
Murphy (CT)
Murphy, Patrick
Murphy, Tim
Murtha
Nadler (NY)
Napolitano
Neal (MA)
Nye
Oberstar
Obey
Olver
Ortiz
Pallone
Pascrell
Pastor (AZ)
Paulsen
Payne
Pelosi
Perlmutter
Perriello
Peters
Peterson
Petri
Pingree (ME)
Platts
Polis (CO)
Pomeroy
Price (NC)
Rahall
Rangel
Rehberg
Reichert
Reyes
Richardson
Rodriguez
Rogers (AL)
Ros-Lehtinen
Ross
Rothman (NJ)
Roybal-Allard
Ruppersberger
Rush
Ryan (OH)
Salazar
Sánchez, Linda T.
Sanchez, Loretta
Sarbanes
Schakowsky
Schauer
Schiff
Schrader
Schwartz
Scott (GA)
Scott (VA)
Serrano
Sestak
Shea-Porter
Shuler
Simpson
Sires
Skelton
Slaughter
Smith (NJ)
Smith (WA)
Space
Speier
Spratt
Stark
Stupak
Sutton
Tanner
Tauscher
Taylor
Teague
Thompson (CA)
Thompson (MS)
Thompson (PA)
Tiberi
Tierney
Titus
Tonko
Towns
Tsongas
Turner
Upton
Van Hollen
Velázquez
Visclosky
Walz
Wasserman Schultz
Waters
Watson
Watt
Waxman
Weiner
Welch
Wexler
Wilson (OH)
Wolf
Woolsey
Wu
Yarmuth
Young (AK)
Young (FL)
---- NOES 139 ---
Aderholt
Akin
Alexander
Bachmann
Bachus
Barrett (SC)
Bartlett
Barton (TX)
Biggert
Bilbray
Bilirakis
Bishop (UT)
Blackburn
Blunt
Boehner
Bonner
Boozman
Boustany
Brady (TX)
Bright
Broun (GA)
Brown (SC)
Brown-Waite, Ginny
Burgess
Burton (IN)
Buyer
Calvert
Camp
Campbell
Cantor
Carter
Cassidy
Chaffetz
Coble
Coffman (CO)
Cole
Conaway
Crenshaw
Culberson
Davis (KY)
Deal (GA)
Dreier
Duncan
Fallin
Flake
Fleming
Forbes
Fortenberry
Foxx
Franks (AZ)
Gallegly
Garrett (NJ)
Gingrey (GA)
Gohmert
Goodlatte
Granger
Graves
Guthrie
Hall (TX)
Harper
Hastings (WA)
Heller
Hensarling
Herger
Hoekstra
Hunter
Inglis
Issa
Jenkins
Johnson (IL)
Johnson, Sam
Jones
Jordan (OH)
King (IA)
Kingston
Kline (MN)
Lamborn
Latham
Latta
Lewis (CA)
Linder
Lucas
Luetkemeyer
Lummis
Lungren, Daniel E.
Mack
Manzullo
Marchant
Marshall
McCarthy (CA)
McCaul
McClintock
McHenry
McKeon
McMorris Rodgers
Mica
Miller (FL)
Miller, Gary
Myrick
Neugebauer
Nunes
Olson
Paul
Pence
Pitts
Poe (TX)
Posey
Price (GA)
Putnam
Radanovich
Roe (TN)
Rogers (KY)
Rogers (MI)
Rohrabacher
Rooney
Roskam
Royce
Ryan (WI)
Scalise
Schmidt
Schock
Sensenbrenner
Sessions
Shadegg
Shimkus
Shuster
Smith (NE)
Smith (TX)
Souder
Stearns
Terry
Thornberry
Tiahrt
Walden
Wamp
Westmoreland
Whitfield
Wilson (SC)
Wittman
---- NOT VOTING 6 ---
Boucher
Meeks (NY)
Sherman
Snyder

Solis (CA)
Sullivan