Cigarticles
Pro Cigar Festival 2009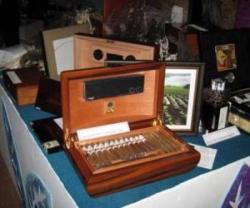 Thursday March 5th, 2009
Frank Seltzer (Mowee)
Pro Cigar 2009, or the Dominican Republic on 10 cigars a day.
OK... So what do you do if you really want to find out about cigars? I mean, there are always factory tours. But do you ever get to see everything? Well, at Pro Cigar you pretty much can.
This year marked the second annual holding of the Pro Cigar Festival, which ran from February 15th to 20th, 2009 in the Dominican Republic. About 160 of us joined in. And while veterans of last year's event told us how much more relaxed it was, I can only surmise one thing... Dominicans do not sleep.
The trip began Sunday at La Romana and the fabulous resort of Casa de Campo. After checking in, we settled into a routine that we hoped would hold us in good stead. We immediately went to the bar.
Now, the great thing about one of these events is that you meet a variety of people. In our little gathering, we had a couple of feds from Chicago. (Their agencies are not important. The fact that Americans LOST their luggage was more important.) Our group included father and son cigar makers from, of all places, the Dallas area, an asset recovery specialist from New York, the foreign sales head for General Cigar, a couple of guys from Tobacconist Magazine and me. By the end of the first round of drinks, we'd become fast friends. We smoked and talked until it was time for us to board the bus for dinner.
Casa de Campo is a huge resort. You get a golf cart just to make it around to your room. And most of the rooms overlook a golf course or, in my case, a driving range.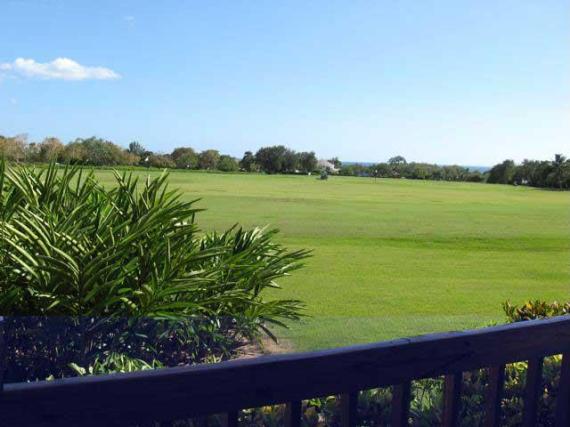 At Casa de Campo, an entire Italian village has been re-created just above the Chavon River. We went there for cocktails and dinner. The view was terrific.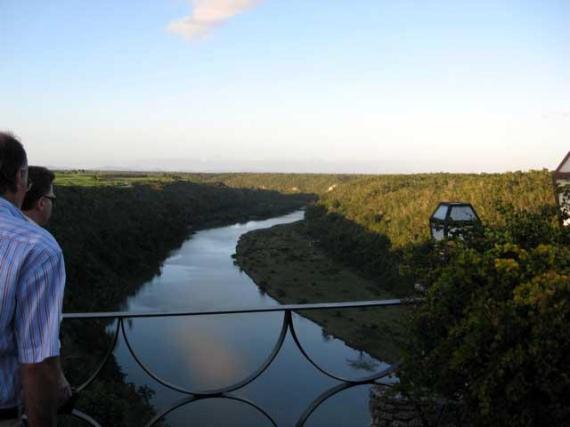 It actually was a nice slow start to the festival. We also got to see some of the goodies that were prizes for the golf tournament. I really liked the Callaway putter.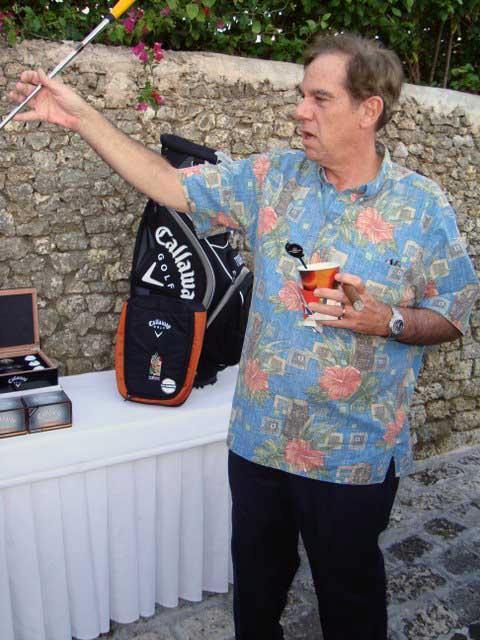 Of course, this was typical for me... Cigar and cocktail in hand, and mouth open. (Everywhere we went, there was a huge selection of cigars from which we could choose.)
Dinner was fabulous. And afterwards, we all retired to the bar. (Did I mention Casa De Campo is all inclusive, including booze? No pictures to protect the innocent.)
The next morning saw us up early to hit the links. One of the first on the scene was Altadis Master blender Jose Sejas. He looked ready to tame the course.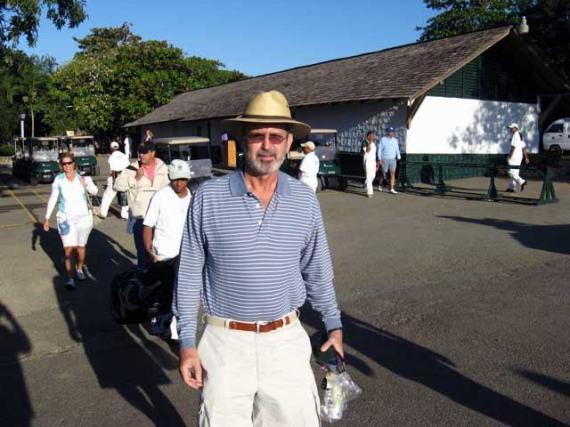 It was time for the Pro Cigar Golf Tournament on the famous Pete Dye 'Teeth of the Dog' course. Not having brought clubs, I rented some. I maintain they were about an inch and a half short. My cart partner was Rich Perkins from Tobacconist magazine. Rich said he thought the course wasn't too tough. That was before we got to the 10th. Here is the green, which doesn't look too bad from that vantage point.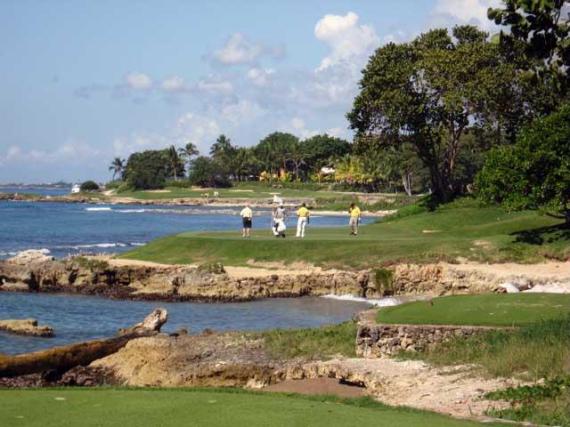 Then you see what it is like from OUR tees.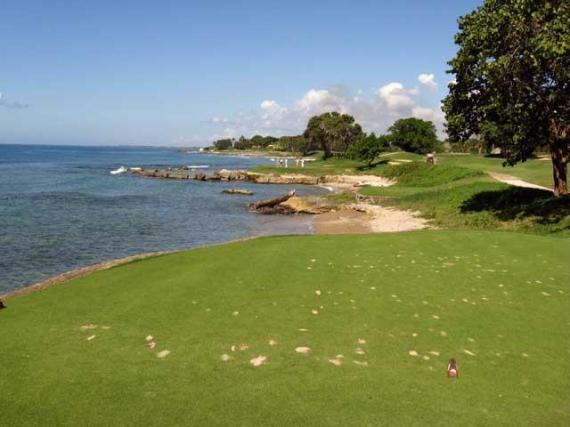 There wasn't anything in between. Thank goodness we were playing from the whites, as the tips were a LOT further back. Oh yeah... And it was into the wind!
We made it through the golf outing, and actually ended up in 3rd place, thanks mainly to our partners from Altadis - Emeterio Lopez and Juan Nolasco. I also won that Callaway putter - not bad.
Tuesday offered the first real hint of what the schedule would be like - jammed packed. We were up early and off to the Altadis factory, Tabacalera de Garcia, which is next door to Casa De Campo. It is the world's largest cigar factory, employing just under 4-thousand people, including 700 who fabricate machine made cigars 24 hours a day and 7 days a week.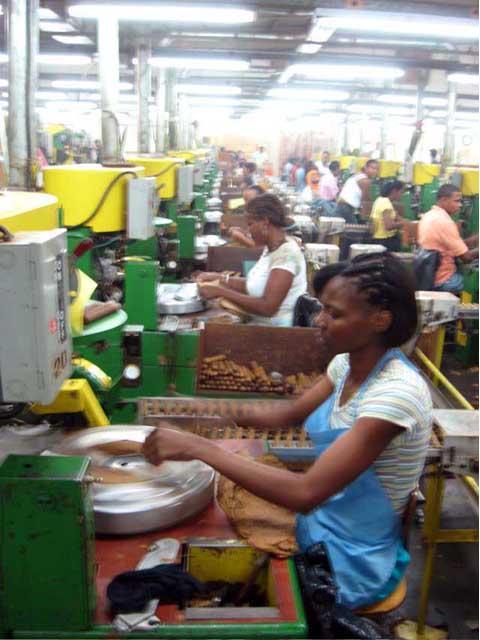 Even after touring the facility, it was difficult to get a handle on its size and scope - truly a massive operation.
Following our tour, it was time to grab a quick lunch and check out for our bus ride up to Santiago. We piled on the bus and took off around 2PM. There were some sandwiches, soft drinks and beer on board for us, but the Santo Domingo traffic slowed us way down. So instead of giving us a leisurely drive with a chance to stop, stretch our legs and, more importantly, hit the bathroom, our driver, knowing we were behind schedule, pushed right on.
We ended up laughingly referring to this as the 'bus trip from Hell ride'. I mean, you are drinking coffee, water and beer all day, and are then bottled up inside a bouncing bus for 5 hours. Towards the end of the drive, some of us discovered there actually WAS a bathroom on the bus. (It is amazing to bounce along the highway at 60-MPH or more, in the back of the bus, trying to hit that little hole.) I say 'some of us' found out, because when we reached the first hotel, several of the guys in front exploded from the bus and headed straight for the bathroom at the hotel.
Tuesday night was free swim. Nothing scheduled, but I was invited with a few others to Guillermo Leon's house for a small dinner. Alas, I did not bring a camera. Probably for good reason. Quite a party, with terrific food, choices of Rum or Presidente and lots of La Aurora cigars. This marked the one-night-only performance of the While Lions - Jose Blanco, Guillermo Leon, Steve Ross and me singing Karaoke. Our performance started with Sinatra's New York, New York, and then deteriorated into Donna Summer and Bee Gees (Jose's choices). Amazing what rum can do. We left at midnight, though I was told the party continued on into the early morning hours.
Wednesday morning coincided with the official start of the festivities in Santiago. You could choose from many options - too many for one person to attend, so I made selections. The day began with a tour of La Aurora. Jose Blanco had a special treat for us - a seminar on blending where we smoked 3 puros to identify specific tobaccos from different countries. We were then given a cigar containing all of those tobaccos within the blend. We could actually taste them all. It was great. We also had a chance to tour the factory.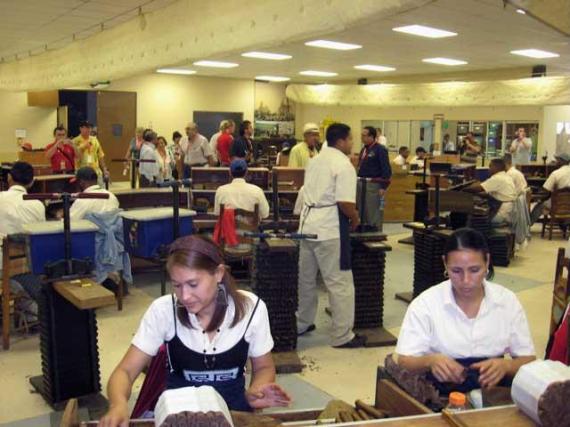 It then was off to lunch with Jose, Guillermo Leon and Manuel Quesada at a great little restaurant serving Paella. That, topped with cold Presidente beer, made for a great lunch. The afternoon led off with a session hosted by Hendrik Kelner - the master blender for Davidoff - on blending cigars. While the seminar was extremely informative, we did not know it also was a wine pairing seminar. So poor me had a Davidoff Milleniums paired with a Ravenswood Zinfandel. Drinking and smoking certainly proved a recurring theme.
Wednesday night's party began with great food as well as plenty of rum (Brugal was a sponsor) and Presidente beer. The highlight was a dancing contest, which paired off non-dancers with women who knew what to do. Arthur Zaretsky of Famous Smoke Shop and Michael Herklots of Davidoff danced to a tie. David Savona of Cigar Aficionado placed out of the money despite a valiant attempt, and is not shown to protect the innocent (especially since Jose Blanco also tried to call my name for the dance competition, and I would expect the same protection next time).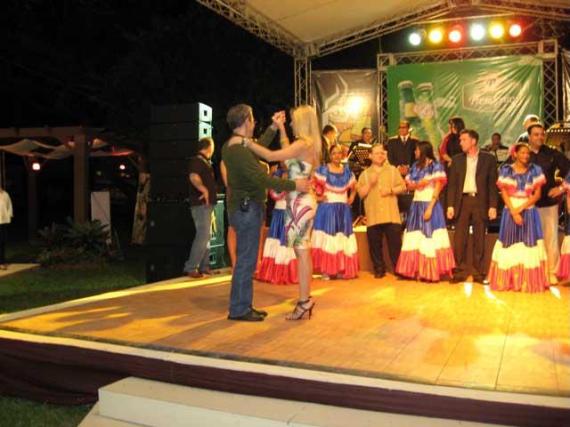 Thursday morning brought a trip to the MATASA factory - the first cigar factory established in a free trade zone, and one now celebrating its 35th anniversary. The factory is an amazing place. But the best thing about the changes at MATASA is that the next generation of Quesadas are now getting seriously involved and are giving Manuel a lot more help. Daughter Raquel is working on blending, Patricia is running the administration, nephews Blondie and Hostos are working in the factory, and Esther is working on the leaf side of the business. Together, they make quite a team.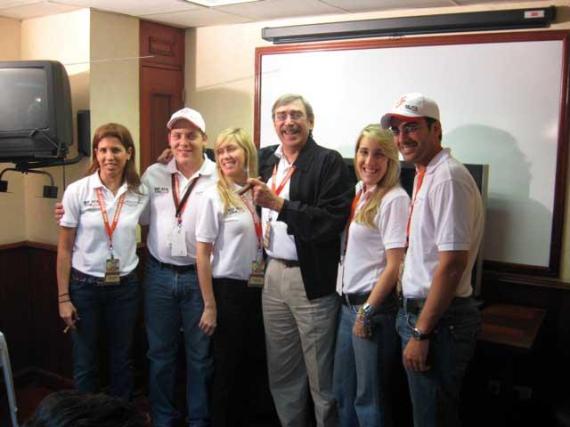 They are extremely happy about the Casa Magna being named Cigar of the Year, and are now working on a special 35th anniversary blend, which they intend to have ready this summer for the RTDA. The afternoon's seminar was again given over to blending, this time presented by General Cigar president Daniel Nunez. He gave us three puro cigars made of Volado, Seco and Ligero. The Volado, or lower leaf, burned well but had very little taste. The Seco, from the middle leaves of the plant, smoked well. And most of us agreed that it had the best flavor. The ligero was strictly heat with no taste. And as Nunez pointed out, it was tough to keep lit because of all the oils in the tobacco. (So if someone tried to make an all Ligero cigar, it wouldn't work.)
Thursday night, we were taken to the Monument to the Heros of the Restoration. It is the dominant feature of Santiago, and a spectacular sight at night. Since Carnival was winding up (the Latin version of Mardi Gras), we saw Carnival dancers.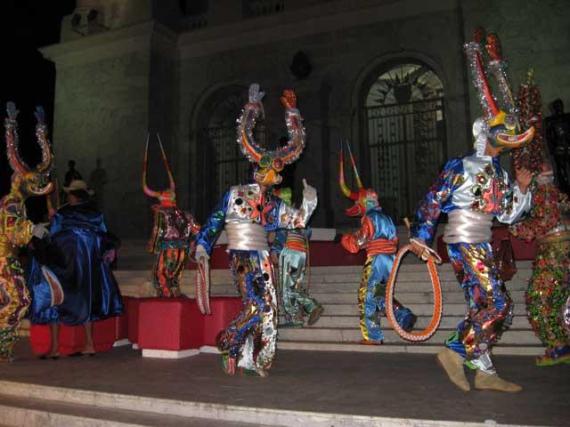 But more important, and more fun, was hanging out with the cigar stars of the Dominican Republic - Ernesto Perez-Carrillo, Modesta Fondeur of General Cigar, Jose Blanco, Benjy Menendez, Daniel Nunez and Manuel Quesada. Henke Kelner and his son were just out of camera range.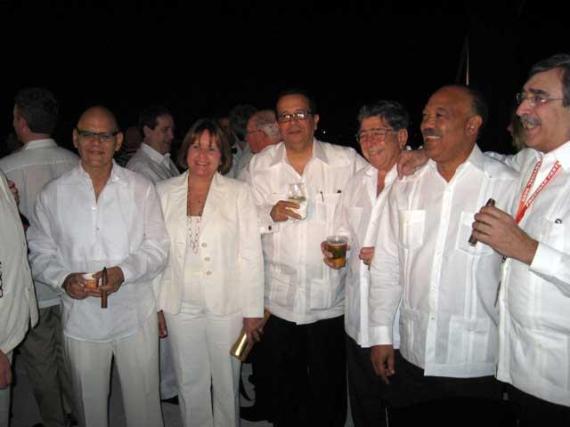 The party at the monument wrapped up at 11PM. But since the Dominicans never want anything to end early, there was an after party at a club called Francifol - the true in-spot. Most everyone went over to the club, and the dance floor was packed.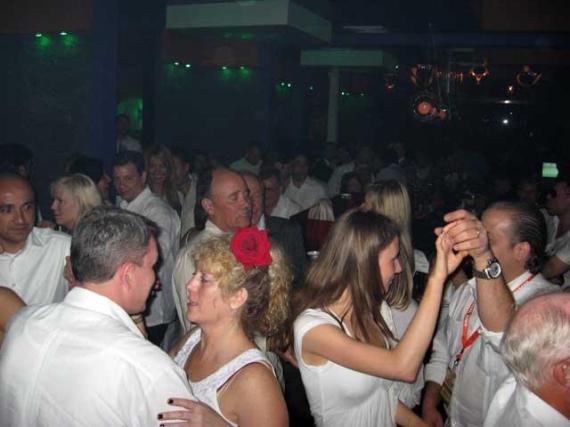 I even waded onto the dance floor myself. Actually, I was dragged by Patricia and Raquel Quesada. How could I say no? (And fortunately, for both their reputations, there are no pictures.) Writer Gary Arzt really had a good time.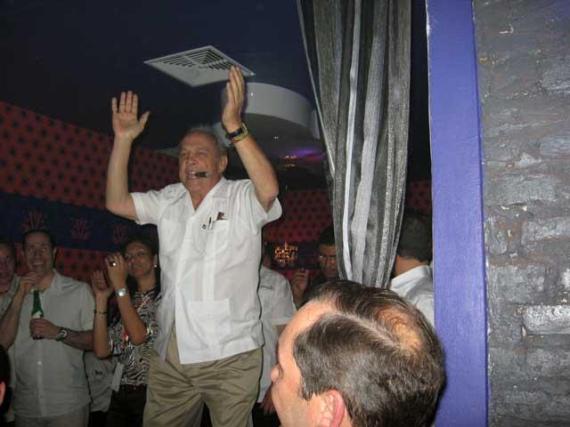 We left around 12:30AM, but the Dominicans continued on until 3:30 or later.
The next morning, we were off to Jicome and the Davidoff tobacco fields. Henke and his son Henry (Kendrik Kelner, Jr.) gave us an in-depth tour of the fields, showing the entire process from the seed beds to the field to the barns to the fermentation. Everything was explained, especially how to know when the leaves were ready for picking - they literally droop towards the ground and are easy to take. We all got the chance to pick leaves from the bottom.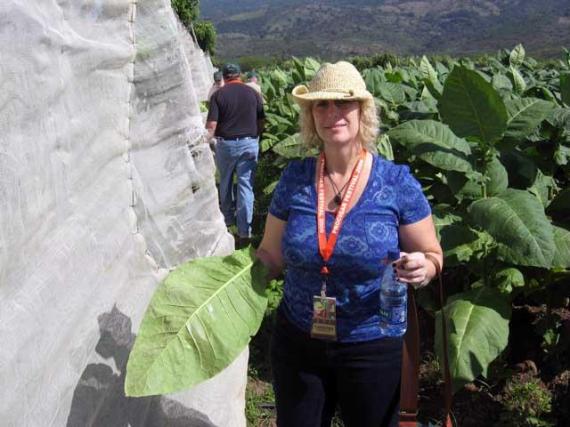 We learned all about the fermentation process from the Kelner viewpoint, and then got to tour their factory on the way back to Santiago.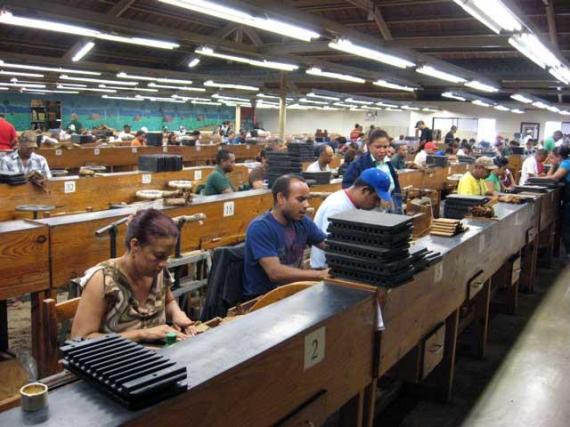 A pity that we had to smoke all those Davidoffs and Griffins during the trip. But duty is duty! Friday night showcased the big gala celebration, which was held at an exclusive club in Santiago. The climax of the evening was the auction to benefit the International Children's Heart Foundation and Hospicio San Vincente de Paul de Santiago - a senior retirement home for low income elderly. The auction items, unique cigars and humidors, were made especially for the event.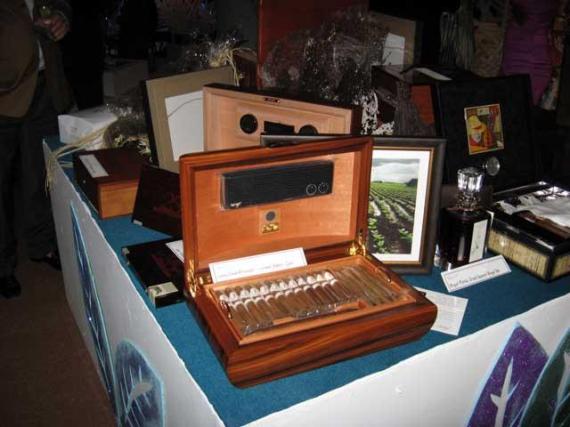 There was, of course, entertainment (I should point out that every night had a show or band of some type). And when the bidding was all finished, the auction had raised over $80,000 for charity!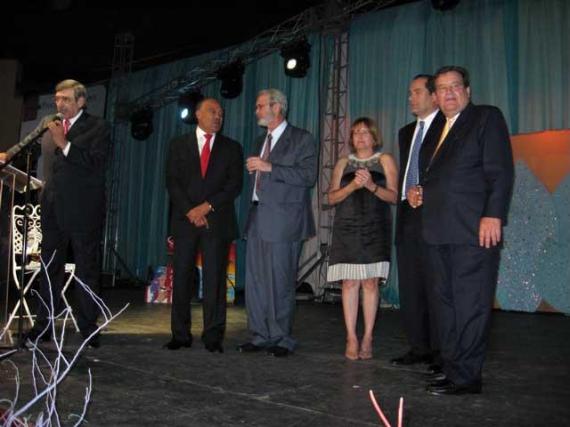 All told, it was quite a week. I made lots of new friends. And I cannot wait until next year's program.
______________________________________________________________________

Frank Seltzer (Mowee) is a former network correspondent who now owns a media consulting company in Dallas, TX. A regular cigar smoker since 1973, Frank runs the DFW Cigar Society, a group that has almost 300 members who get together twice a month to trade smokes and lies. He also runs away as often as he can to his condo in Maui... hence the name Mowee (which, by the way, was the way Captain Cook originally spelled the island when he heard Hawaiians speak it.)