Cigarticles
IPCPR Former RTDA 2008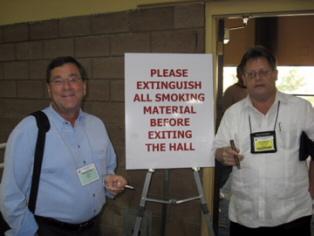 FEAR AND LOATHING IN LAS VEGAS
We were 90 miles outside of Barstow when the drugs began to take effect. The Bats... No. Wait. That was Hunter S. Thompson. But this year in Las Vegas, much of the time, you began to wonder if drugs were secretly hidden in the expensive water (which would have justified its cost), or if things had just become surreal. Remember, this is Sin City. Anything goes here - legal prostitution right outside the city (illegal hookers everywhere), free drinks, gambling... Everything you'd want in a modern day Sodom & Gomorrah. Anything goes, except for one little thing - smoking. You see, if you haven't been to Vegas lately, the only place you can smoke is on the Casino floor - and not everywhere in the casino either. Yup, those hookers are becoming your nanny. Oh well... As Hunter said, "When the going gets weird, the weird turn pro."
First of all, contrary to rumors preceding the show, smoking was allowed on the floor. That was the good news. What was the bad news? Well, the convention began with a gala opening reception. Because it actually rained in Vegas, the party moved inside and was therefore a non-smoking event. Wait... What? A non-smoking tobacco convention party? Well, it was a last minute change, so you can understand things happen when it rains in Vegas. No biggie. Monday morning was the annual IPCPR breakfast where the organization talks about the progress it has made in terms of fighting those ever-encroaching smoking bans and legislation.
So what is wrong with this picture?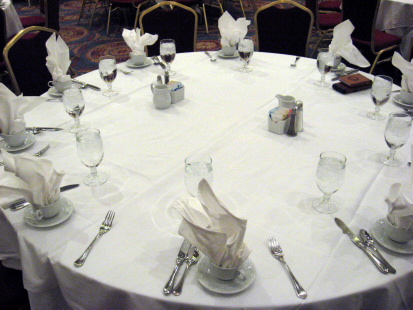 Where are the ashtrays??? The welcoming breakfast for the International Premium Cigar and Pipe Retailers (aka RTDA) was non-smoking! Great location choice, fellows. Here was where things became surreal. The wigs at the IPCPR kept talking about how much progress they have made and how tough a fight it will be (etc., etc.) at a non-smoking breakfast. Boy, that will show them! But at least the hotel staff was understanding. I walked into the breakfast with a cigar in my mouth (I had let it go out as I walked down the hall since I could not have a lit cigar once off the casino floor), and was immediately scolded by several people saying I could not smoke in there. I knew that. Had the breakfast, picked up my cigar, which had just been sitting on the tablecloth, totally inert, and stuck it in my mouth as I was heading out when a security guard hustled up to remind me again that I couldn't smoke there. I don't think he understood when I asked, "Do you SEE any smoke?" I am assuming the words were too big for him, because his chest puffed up, his hand went to his radio holster (no guns here, thank goodness) and he repeated with spittle flying this time, "I said NO SMOKING and there is an ASH on that cigar." At this point, I figured a demonstration was in order. I put the ash squarely into the palm of my hand and replied, "Either this cigar is not lit or else I can tolerate more pain than you can imagine." I then continued walking out with my own entourage, making sure not to put flame to tobacco all the way to the show's entrance. It's great to be popular. But you know, they were very welcoming.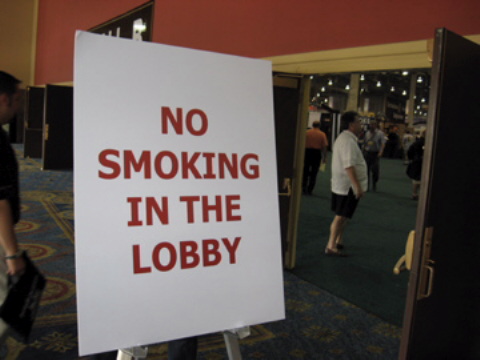 Oh wait... Guess not. Anyway, the show began Monday morning, and there was a lot of good stuff to see.
THE CIGARS AND A SURPRISE
The first cigar I got that morning was the new offering by Ashton - the special La Aroma de Cuba made by Pepin. I was surprised by the strength. It was more in the medium to mild category, but still with Pepin's typical complexity. I was expecting a much stronger stick. But this one was, to me, a good morning cigar and a nice way to begin the show.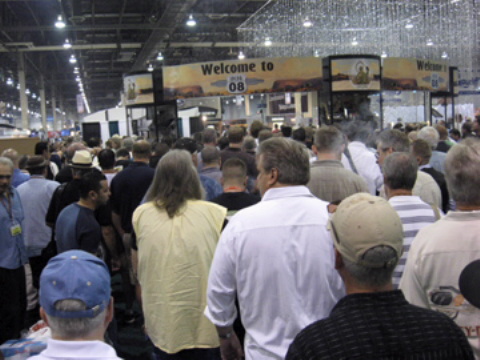 Our first stop was to see Manolo Quesada at MATASA. His newest offerings are the Casa Magna, which is a full bodied Nicaraguan puro with a very clean taste, and the Cubano Viso Fuerte (a cousin to the popular Cubano Limitado), which has a lot of strength packed into Honduran Criollo Viso wrapper with Dominican filler and binder. The Cubano Viso Fuerte comes in 4 sizes with a MSRP ranging from $5.25 to $7.50. The Casa Magna has 5 sizes with a MSRP between $4.75 and $6. SAG Imports also showed two new selections from Augusto Reyes - a Gran Cru and a Maduro. Both were very tasty cigars. Fortunately, we knew about these cigars prior to the show (because your taste buds usually die a couple of hours into the walk fest). The Casa Magna had a wonderful taste. And the weird thing is that one of our guys actually had to let it go out a couple of times when he smoked the sample, but with each relight, there was no bitterness - only a very clean and full flavor. The Cubano Viso Fuerte is very close to the Cubana Limitado, and at some point I will have to smoke them side by side to figure out the differences. I know there are some, but for the life of me I can't say what they are at the moment. Both are just very tasty. Manolo, being basically evil, forced me to smoke a Casa Magna Torito. He knows I hate large ring gauge cigars, preferring the Corona. But he said I had to smoke the 4.5 x 60 stick. It took me a very long time to finish it, but the flavors were perfect on it. (The good thing is that Manolo's beautiful daughters, Patricia and Raquel, took pity on me and also gave me a Casa Magna Corona to smoke later.)

The next stop was General. This was where we got surprised. The company had three samples to hand out, which included the new Cohiba Dominican Puro (a premium stick with a premium price in the high teens to 20 bucks range) and the new Hoyo de Monterrey Excalibur Legends series (in the 6 to 7 buck range).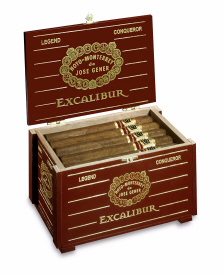 The new HdM is a step up strength-wise from the usual HdMs. It has a Connecticut Havana seed wrapper and is packed with Nicaraguan tobacco and Dominican ligero. On your first puff, you get a pepper bomb. But what is interesting is that it then mellows out and provides nice strength with balance. The third was a Macanudo - I know, I know... a Macanudo. But wait. This was a Macanudo 1968.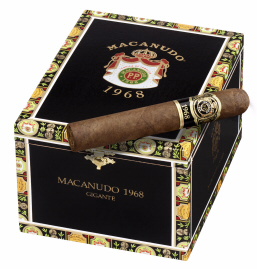 It ain't your Daddy's Mac. In fact, I would venture to say if a regular Macanudo smoker picked up this cigar by mistake and fired it up, his head would explode. I really did NOT want to smoke this at first. But General's president Daniel Nuñez, knowing my love for the Dominican-made Bolivar, strongly urged me to try it. I fired it up away from Daniel, thinking that since it was just another Macanudo, it would probably hit the ashtray shortly after the first couple of puffs. Mind you, Macs are well made cigars and, yes, in my past I have smoked them. But generally, they taste like air-balls to me. So I took my first puff. Whoops. Good, no, very good cigar! As I was saying at the show, and now will commit to print - I know I will pay for this - the Macanudo 1968 was one of the best cigars at this year's event. The Mac 68 comes in 4 sizes and runs between $8.50 and $11. It uses a Honduras San Agustín wrapper with tercio and barrel aged Dominican and Ometepe tobaccos. The Ometepe tobacco is Nicaraguan (and also used in the new HdM), and has a very distinctive taste which hits me right. The Bolivars and Partagas Decadas were the first to use it, and now the new Mac. I think the blend is just right on this one. Rich and flavorful. Give it a chance.
Another project from General is the La Gloria Cubana Artesanos de Miami. This is a very limited production stick coming out of Ernesto Perez-Carillo's El Credito factory in Calle Ocho in Miami. Only 250,000 will be made, and it is a tribute cigar to the artisans who have helped La Gloria and the other El Credito brands. Due to their limited nature, only a very few stores nationwide will stock them. There were no samples to be had at the show. However, I did see the artwork and the box, and can say they are beautiful as well as the result of a lot of work.
Monday night brought the Camacho bar event. It was a smoke-filled V Bar in the Venetian as the Camacho crew passed out the mojitos. Great fun, but the pictures didn't come out so well.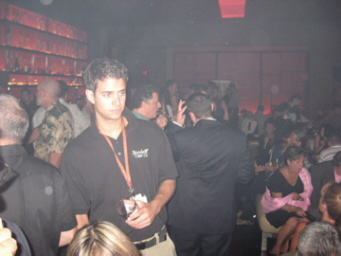 Too much smoke. But isn't that the point? At the same time, Altadis had their party down the hall - much better for taking pictures.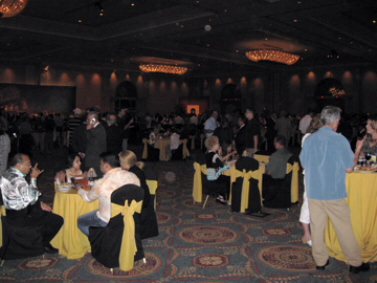 You see, the Altadis event was non-smoking. They handed out nice gift packs of the new Trinidad Habana Reserve, which had surprising flavor - a bit fuller than expected and very pleasant (I had it on the casino floor when we took the opportunity to sit down). Pricing is $4.50 to 7 bucks.
CAO, always known for their parties, was no exception this year. Over at the Palms, we hung around the pool to have free cocktails and to try the new CAO LX2 Double Ligero. The LX2 comes in 3 shapes with pricing from 6 to 8 bucks. The real reason for huge attendance this year was a special performance by Lynard Skynard in the Club Rain.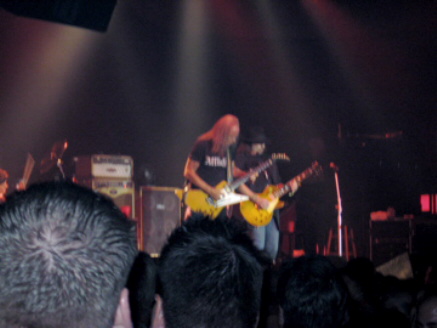 Although not everyone appreciated the event. She is 78 and holding her ears, even with ear plugs...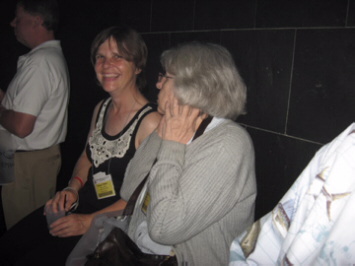 Tuesday, I was hung over and tired. The convention continued. Tongues had begun to feel like fur, not only from smoking a lot, but also from not having enough beverages at hand to go with the cigars. And here I am even talking water. A few of the exhibitors - who will remain nameless to protect them - were offering free water. Apparently, in the unionized town of Sin City, that is a no-no, unless they had purchased the little bottles from the authorized supplier - at $3 a pop. So here we were walking around this air-conditioned desert with no water unless we wanted to buy the small bottles for 3 bucks. (These are the same type of bottles sold in 7-Elevens for way less than a buck, except that 7-Eleven's bottles sport names you have actually heard of.)
Caught up with Steve Saka at Drew Estate and got some big news. The price of Liga Privada #9's has actually gone down! The Liga line now has additional sizes - a Robusto at $8.95 (the Toro has dropped a buck to $9.95), the new Belicoso at $10.95 and the Double Corona at $11.95. I wanted to take a picture of the various sizes. But it looked like a swarm of locusts had swept through, and most of the boxes were empty by Day Two. Drew Estate has also rolled out a new Chateau Real in Maduro - same basic flavor profile as the regular Chateaus, but with a touch more strength from the Maduro wrapper. The Tabak Especial is a new line for Drew. There are two lines in it - the Dulce, which is basically a replacement cigar for the popular Kahlua, and the Negra, which Saka says is a crossover cigar. The Negra is lightly infused with Nicaraguan Coffee, and he says you get that coffee flavor when you first light it. But as you smoke through it, the cigar transitions from the coffee taste to that of plain tobacco with no infusion.
Drew Estates is also the new distributor for Joya de Nicaragua. They were showing the whole line of the Antaños and Celebraciones, but adding the Classicos, which is a Connecticut shade wrapped stick that has been popular in Europe and now is coming to the US at $5 to 6.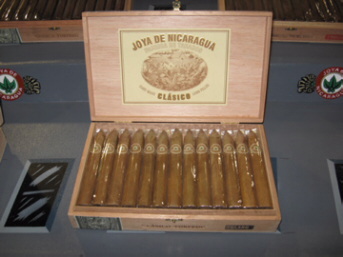 Over at Miami Cigars, home of La Aurora, we got to see their new offerings. Well, one was actually introduced last year - the Leon Jimenes 300 Series. This is a full line of what was the 20th-Anniversary blend of the Leon Jimenes, which featured a Cameroon wrapper over a blend of Dominican and Nicaraguan tobaccos. The filler and binder are aged 3 years in barrels and then, once the cigars are rolled, they rest an additional 300 days in La Aurora's aging room. José Blanco was obviously proud of his new Preferido Lancero.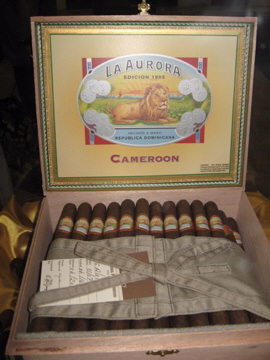 The 6 and 7/8-inch by 40-ring gauge stick certainly concentrates the flavor of the Preferido blend. And the Cameroon wrapper really sets it off. Coming in boxes of 50, the Lanceros runs about $9 per stick.
Gene Arganese showed off the new boxes for his CL3 and ML3 lines.
Arganese says they are the only cigars to the third power. The ML is Maduro and the CL is Corojo Ligero. They will run about 5 bucks, and are very tasty.
Nick Perdomo was always busy during the show. He has two new cigars out - actually, one new and the other old. He has reintroduced the Perdomo2, and added the Patriarch as a tribute to his late father.
Pete Johnson has the La Riqueza line ('little Ricky') as a new mark under his Tatuajes. It is an old brand from Cuba in the 1940s, incorporating a Connecticut Broadleaf wrapper over a traditional Cuban style of blending for the filler and binder using Viso, Seco and Volado. The Broadleaf wrapper brings up the flavor, and Pete promises this one will age great. The other addition is the Cabaiguan Maduro, which will be limited to very few retailers for now. (At Halloween, Pete will be introducing the Frank as part of his Monster or Horror series... No, it is not for me but for Frankenstein.)
Alec Bradley was showing off his new Tempus, made at the Raices Cubana factory in Honduras (by the same people who make the Illusione). The Tempus (Latin for Time) is the fullest and strongest cigar ever produced by Alec Bradley. It retails for $6 to $8, and the Churchill scored a 94 in CA. I smoked one upon returning from IPCPR, and have to say the Belicoso is a tasty stick with lots of flavor and pretty full strength.
Tuesday night, we hung out with George Rico since there were no parties. Had some pretty good Cuban food at the Howard Johnson's on the strip toward downtown;. La Florida was the name of the restaurant. Good mojitos there as well. After dinner, we headed to the casino to smoke and had one of George's Lanceros. Very nice smoke. By the way, this obviously was the year of the Lancero. La Aurora, Miami Cigar's Nestor, STC (George Rico) and, of course, Tatuaje had 'em, but so did lots of other makers including a small company called Isla de Cuba. They had a Wango Tango Lancero, with lots of flavor, priced at $6 to7 bucks.
Wednesday, we tried to follow up with those we had not visited. Pepin has his My Father cigar, but in two days no samples were to be had, and Wednesday was no different. Tabacalera Tropicál had its new Casa Fernandez line. Palio came out with new colors in its cutters - a gold and silver one. And they introduced a new cigar called The Escencia. Though it comes in only four sizes, the one I did smoke (the Petit Corona) was as full bodied as you will find. Tons of flavor and a Cubanesque taste. These will be available in limited production with prices of between $8.57 and $10. This cigar project is more a matter of love than actual numbers according to the Palio guys.
Others that we did not get much of a chance to talk with were Camacho with the new Cojones (they are aged cigars where the blends weren't exactly right - seconds basically - and the selection will vary). Oliva had the Nub on display. XIKAR had some new redesigned lighters, but their booth was way too busy.
Illusione had his new Cruzado, and Dion made lots of friends by using a wallpaper of Rev. Jim Jones as his backdrop. His price list was also on a photo of Jones.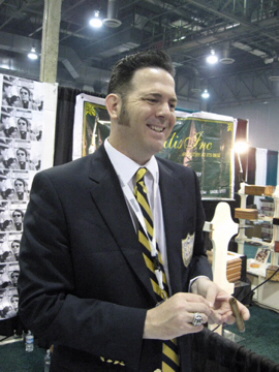 (Sorry, killing reporters, which Jones' people did - Don Harris of NBC News for one - and a Congressman along with nearly 1,000 people including 276 children is NOT funny.) Dion may make some good cigars, but he went way over the line on this occasion and I, for one, will not spend any money on a business that tries to capitalize on a tragedy. It takes what happened at Jonestown lightly and uses it for marketing.
Overall, the convention was a good one. I know I missed a lot of people, but there was only so much time. Since the venues for smoking were so limited, there were a lot of cigars that did not get tasted. But at least Vegas showed us true hospitality.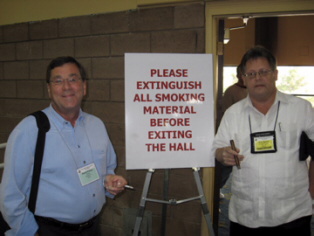 ________________________________________________________________________
Frank Seltzer (Mowee) is a former network correspondent who now owns a media consulting company in Dallas, TX. A regular cigar smoker since 1973, he runs the DFW Cigar Society that has almost 300 members who get together twice a month to trade smokes and lies. He also runs away as often as he can to his condo in Maui...hence the name Mowee (which btw was the way Captain Cook originally spelled the island when he heard Hawaiians speak it.)