Cigarticles
Dispatches from the IPCPR 2009 #2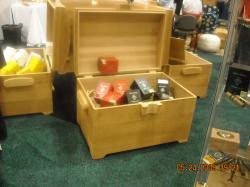 Thomas Bender (TommyBB)
New Orleans, La.
August 10, 2009
This second day of the IPCPR show proved to be a bit more difficult than I remembered from previous years. Of course, in previous years, we were all younger than we are now. I really shouldn't complain, my old CW friend Bill "Shadow" Orlando who joined CW even before I did, has had his issues and he didn't complain this afternoon as I am, now.
Today was about people as much as it was cigars. Having recently become active on Facebook as well as my other internet adventures, there were people I wanted to see. As you will learn from Frank Seltzer (Mowee) Jose Blanco of La Aurora is an insightful man. He was gracious enough to spend a few moments with me to share his thoughts on Cigar Weekly and the internet cigar community. He reads most of the web-based publications and the attendent discussion forums or other interactive communities. It's a way for him to keep in touch with what his customers like and dislike about his cigars. La Aurora is adding a few new line extensions which Jose handed me, and I started the day with one of them. There's a new extendion to the 1495 line, called the "Brick & Mortar Edition" which is intended to be sold to retail tobacconist shops only. These will come with a Dominican wrapper and an Ecuadoran wrapper. Since it was only 10:30 a.m. I opted for the B. M. E. Dominicana and was rewarded with a lovely smoking experience.
Jose Blanco and Jose "Don Pepin" Garcia
I did mention "people" right? In last night's dispatch, I mentioned my friend J. D. Burns of Avalon Cigars, and there, I ran into some other very good, long time CW friends Spiridon (Jon Adams) and CW Contributing Editor Sevenmag (J. Todd Crandall) both of Mobile, Alabama. Also with them was another good friend Jmcq (Jamie McKeough.) The four of us spent a total of about half the day together. I would say it was all day, however, just as we'd get into a rhythm I'd get step aside to speak to people or get pulled away. I mentioned smoking the Avalon Torque Cigar last night, In support of their presentation, they had a couple of really nice automobiles, including a Ford GT. Since they're at the back of the hall, it comes as a bit of a shock to walk all the way, and as you approach, there's this classic automobile.

As noon arrived, I met with Michael Herklots, the dynamic manager of Davidoff of Geneve's two main stores in Manhattan. This is a man who is on the go, and in demand all over the place. He's often responsible for ensuring events in his stores are stellar affairs and "done the Davidoff way." All told we talked for nearly an hour, and it was my privilege to smoke a Zino Platinum Emperor Edition 2009 Crown Series. Now at first blush this cigar looks mild, it's wrapped with a Ecuadoran Connecticutt wrapper, has a Connecticut binder and Dominican filler. Experienced cigar smokers see mild written all over that blend. Well I can tell you, the smoke is not what one would expect from a Dominican blended cigar. It's a solid, medium-bodied cigar with a smoth, refined flavor, but it wanted to go out a couple times.
I also got to meet Danielle Hawthorne, Davidoff Brand Manager. She took some time showing me the gorgeous new accessories, mostly humidors, that Davidoff is making available this year. The quality of the woods, finishes, shelving and design are simply astounding. Also of interest is the Special Edition, it's a Davidoff cigar with a real--as in jewelry--ring as the cigar band. It is quite the eye-catcher and a nod back to tradition and fashion from the early 20th century.
Michael Herklots and Danielle Hawthorne
Davidoff Inlaid Humidor
Davidoff Macassar humidor
Davidoff Special Edition
My next conversation was with a newcomer to cigar-making. Frank Herrera is an attorney-at-law by profession, and he has been representing Guantanamera Cigars as they have been challenged by Habanos S. A. and Cubatobacco for trademark infringement. Herrera publishes a blog called Cigar Law and he uses the name as a Facebook and Twitter presence as well. Being involved, already in the Guantanamera litigation, he and his blog are a thorough news source on almost any litigation, negotiation or pursuit of trademark infringement cases. It would be difficult to find someone more informed on this critical issue. As part of this ongoing litigation, Herrera has deposed Manuel Garcia, the vice-president for production of Habanos S. A.
This isn't Frank Herrera's only connection to cigars. He has recently teamed up with Don Kiki Berger of Cuban Crafters, who is turning into one of this year's busiest cigar manufacturers and giving Don Pepin stiff competition in that regard. Herrera's new line is called Caridad del Cobre, the name under which Cubans venerate the Blessed Virgin Mary. This cigar is blended in Miami by Manuel Medina, chief blender for Cuban Crafters and is starting out with only three sizes . The cigar is exactly like the Cuban Crafters Medina 1959-Miami. As for Guantanamera, they are now also involved with Cuban Crafters, producing a cigar called the 310. The Caridad del Cobre belicoso was my third and last cigar of the day, and it did taste much like the Cuban Crafters Medina 1959. Up to this point I haven't had a bad cigar for the entire show, and I'm not the only one who thinks so. At this point of the afternon, I catch up again with the fellows who are waiting for me, and there I meet Shadow (Bill Orlando) of West Virginia, and one of Cigar Weekly's longest standing members. Bill completed a review in early 1998, and has stuck around and been a valuable member, contributor and friend.
As 4:00 rolled around my company decided it was time for a Presidente Beer with Guillermo Leon, President of El Presidente and La Aurora. I made my way, for whatever reason, to the very rear of the exhibition floor and found Flor de Gonzalez, a smaller manufacturer out of Miami. There I met the daughter of the founder, Yadi Gonzalez Vargas, and Marketing Director Roberto Alonso. This brand holds a very special memory for me, going back to the first couple years I smoked cigars. Their new release is the Q-Ban Fuerte. Alonso mentioned that they roll many cigars in their Miami factory, but also have a factory in Condega, Nicaragua and have a 300 acre plantation in Ecuador where they grow Habano and Connecticut shade wrapper. Their blender is a Cuban refugee who had been employed at the Romeo y Julieta factory in La Habana. The Q-Ban Fuerte is Flor de Gonzalez' effort to replicate a Cuban cigar. Their other new venture is the Gonzalez Miami, which is an interesting line. It's available in a Lancero, and in a sixty ring gauge. They also sell them in an A. M. and P. M. combination box. The A. M. has the Ecuadorian Connecticut-shade wrapper, and the P. M. has the Habano capa.
Nearly everyone I speak to agrees that the attendance at this year's show is not what it could be, but those here are doing good business, as many of the medium and large comapny exhibits are busy at all times To follow up on yesterday's dispatch, I stopped in again this afternoon at S. A. G. Imports, to see how things are, and Pachy Quesada told me the have already sold ALL of the Quesada 35th Anniversary cigars. That's quite an acheivement for Las Jovenes.
It was another good day, but then, is there a bad day at this event? For me, there isn't.
Read Dispatch #1
Discuss this and all IPCPR Show Dispatches in the Smokin Post, Cigar Weekly Community Forums and Discussion Groups