Cigarticles
Dispatches from the IPCPR 2009 #3 : Common Threads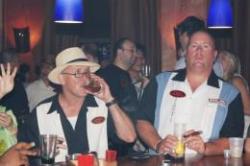 A third installment of the week from the International Premium Cigar and Pipe Retailers' Association trade show for 2009. Editor-in-Chief Thomas Bender (TommyBB) brings the sights, sounds, smells and smoke from the show floor in his hometown.
August 18, 2009
by Thomas Bender and David "Yogi" Dean.
After visiting the floor of the International Premium Cigar and Pipe Retailers' Association trade show for four days, last week, a few small trends and ideas began to emerge. Some fairly awful things occurred, as well. First off, the whole issue of taxation weighed over this show like a cloud of doom. It has been recounted in the pages of Cigar Weekly by more than one commentator. In a nut shell, the state of Louisiana imposed its tobacco excise tax on the exhibitors at the show. It charged manufacturers a tax on every cigar they GAVE AWAY. Not only that, there were constant reminders about it throughout the show. Periodic announcements over the show's public address system reminded exhibitors to go visit the state "revenuers" at their booth location. They also walked the floor of the show, enforcing the tax, going "undercover" to get samples, and trying to collect as well.
If that threat and follow-through weren't enough, a number of exhibitors had products and samples stolen. This reached a point, on Monday morning, that the Federal Bureau of Investigation was called into the trade show floor. In making rounds on Tuesday and Wednesday, Cigar Weekly learned that Berger & Argenti had two hundred cigars stolen. Geraldo Scotto of Menendez and Amerino, manufacturers of Dona Flor of Brazil, told CW that they had boxes stolen. For whatever reason, no cigars were stolen, only boxes; so their newest offerings were placed in older boxes. Rafael Nodal, the younger, of Oliveros also informed CW that they had almost all of their sample cigars stolen. He continued, stating that it had a tremendous, negative impact on their sales, as retail tobacconists were unwilling to take a chance on their cigars without trying them. "We will send them samples, but it's not the same as giving them the cigars, and having them write orders here at the show."
Cigar Weekly editor-in-chief Thomas Bender and Albert Argenti
The next trend was the "word of the show." Believe it or not, the word CW heard the most all over the floor, and elsewhere, was lancero. It was overheard in many conversations within exhibits, it was heard just walking the floor and catching snippets of conversation from show-goers. I mentioned this to Joseph R. Gannascoli, making his new Cugine cigar, and he nodded, deep in thought. It was reinforced late Tuesday evening, when Alberto Noguera, made a gift to the diehards remaining at the Cigar Weekly herf. What gift? Why, it was a small package of Cuban Crafters Medina 1959—Miami lanceros from Noguera's personal stash of cigars. Smoked near the end of the herf while the last Naugh-TEAs were being consumed, this was a smooth, enjoyable cigar, with a tremendous amount of flavor. These were much better than the batch CW received to review late in 2008. As if this isn't evidence enough, La Aurora, distributed by Miami Cigars, announced today (Tuesday, August 18, 2009) through a press release, the introduction of a lancero shaped cigar using the blend of their Cien Años line. This new cigar will be distributed in only 800 boxes of 25 cigars each. Link
Alberto Noguera and Jose Bermudez of Cuban Crafters
If one's eyes are to be believed, the "American Dream" of plotting one's own pursuit of happiness is alive and well, despite the recent machinations of the Clinton, Bush and Obama administrations as well as in Congress. All across the floor, medium and small, family-owned companies abound. Some have already been chronicled in previous IPCPR Dispatches, the IPCPR Wrap-up by Frank Seltzer, and some have not yet been discussed. There were even a number of MUCH smaller, sometimes individually represented, businesses looking to make their mark on the cigar and tobacco business. Long-time CW member David "Yogi" Dean, was expert and invaluable in tracking down some of these people who may, otherwise, have toiled futilely or in relative anonymity.
The first was Jorge Luis Molina of a company called "Real Men Smoke Cigars." What Molina, a graphic designer in the advertising field who owns his own agency, had done was to create a simple bumper sticker, with his logo and company name on it. Since this is a retailers' show, the bumper stickers "keystone" at $2.00 apiece, with half of that price going into a scholarship fund named for Jorge Molina's late wife. The fund benefits eighth grade students, leaving Good Shepherd Catholic School in Miami, who would otherwise have trouble paying admissions fees and tuitions to high school.
Molina took his bumper sticker design and made it into a shirt logo, and has created the world's first lines of true, cigar smokers' shirts. Molina's goal is for his shirts to achieve the iconic status of a linen guayabera,however the RMSC basic shirt is truly designed for the cigar smoker. The left, breast pocket, is divided with a seam so that each half will securely hold a cigar. At the bottom of the right side, near the hem, is a smaller pocket designed to hold a cigar cutter and lighter right at the smoker's extended fingertips. In total, RMSC offers four different camp and linen-style shirts, two in polyester and two in linen. The polyester shirts will not wrinkle, nor will they absorb as much smoke odor as a cotton shirt.
"Yogi's" second find was the Get A Grip Cigar Clip. This unique cigar accessory was being displayed throughout the show floor by its designer Brian Thorpe. Thorpe, who was walking the floor, beating the pavement, is a longtime cigar smoker, Vietnam Veteran and retired firefighter. He has created a dual clip device to hold a cigar. Two identical-looking clips are joined on a swivel. The clips, made of anodized aluminum to prevent corrosion, each have their own tension level. The clip-gripping side will attach to almost anything—tabletop, boat rail, golf cart, motorcycle windshield, wheelchair,beach or patio chair, barbecue pit or grill—without scratching or gouging; while the gentle clip will hold a cigar just tight enough to prevent it from moving without actually crushing it or damaging it. Since it swivels, the cigar will remain level no matter which way the tight grip is clipped. The gripping clip side is rubber coated to prevent surface scratching. The Get A Grip Cigar Clip comes in a velvet, drawstring carrying bag.
CW Contributing Editor David "Yogi" Dean and Brian Thorpe
Get -A-Grip Cigar Clip holding a Dona Flor with the "Authentic" foot band.
That Yogi, two wasn't enough; this guy is one of the true good ones out there. He wanted me to "meet HutcH" for two days; mentioning it in phone calls and every meeting. It took until Tuesday afternoon for it to happen. HutcH is Rick "HutcH" Hutchings of Louisville, Kentucky. HutcH is known for his craftsmanship in fabricating knife handles and other things. He has teamed up with Xikar, of Kansas City, Missouri, to add his artisan handles to Xikar cigar cutters. He makes handles out of such things as armadillo shell, ivory, and mammoth bone among others. He's also renowned for his scrimshaw work, including the skull cutter pictured below.
HutcH has already promised to make the grand prize for the Cigar Weekly Herf at the 2010 IPCPR Show here in New Orleans. In fact, he will make the cutter, and add the scrimshaw work AT THE HERF once the winner is drawn. See Scrim by HutcH

Another common theme, this year, is that of copyright and trademark litigation. A number of companies represented at the show are actively involved in trademark conflicts. If having merchandise stolen wasn't enough for Menendez & Amerino with their Dona Flor cigar, made in Brazil. Gerald Scotto explained that they were in a dispute with their former distributor. M. & A. now have an injunction against the former distributor; Brazil Tobacco. Said Scotto "there are three distinct actions that have taken place, one in U. S. P. T. O. court in New York (actually in Washington D. C. ed.,); they've proved breach of contract in Miami, as well as indemnization for irregular use of the term. Brazil Tobacco was also at the show, claiming the same art work, name, and even the Brazilian Mata Fina wrapper. M&A added a band at the foot of their cigars saying "Authentic" to differentiate between the two company's cigars.(According to research by Cigar Law's Frank Herrera, no substantive rulings have yet been decided for either party, while the two actions are still pending.)

Also in the trademark wars is Guantanamera Cigars of Miami. Counsel for Guantanamera is one of the hardest working people in the cigar business. Frank Herrera is not only an attorney and blogger, he's also coming to market with his own line of cigars, too. CW will have more on his Caridad del Cobre cigar elsewhere. Guantanamera, and its president Jose Montague, have had an opposition filed against them by no less an entity than Habanos S. A.
As part of his continuing legal research, Herrera has created a daily blog called Cigar Law, which is one of the most thorough sites where cigar trademark legal issues are covered. Herrera is representing Guantanamera in its defense and its pending suit against Habanos S. A.
"Habanos filed an opposition against Guantanamera at the trademark office. The Trademark Trial and Appeal Board granted the Opposition. Guantanamera appealed to the US District Court for the District of Columbia. This year Guantanamera sued Habanos for infringement in US District Court for the Southern District of Florida. So currently there are two pending cases. The appeal and the action for infringement." Frank Herrera
Interestingly enough, as part of the on-going litigation, he recently "deposed" Manuel Garcia, Vice-President of Production for Habanos S. A. In a procedure and conversation that took twelve hours with necessary translations, Garcia and Herrera got to be quite friendly, even swapping cigars.
Frank Herrera and his colleagues from Guantanamera at the CW IPCPR 2009 Herf
It appears that because the U.S-based Guantanamera cigar will prevail in this case, there will be a complicated settlement. The Office of Foreign Asset Control (OFAC) will likely prevent any direct payment of the settlement due to the trade embargo with Cuba.

Guantanamera is also venturing into non-cigar territory, with some amazingly pretty, folk-art styled domino tables.