CWNews
Louisiana Legislature Suspends Tax for IPCPR Trade Show

June 22, 2010
New Orleans, La.
by Thomas Bender (TommyBB)
Over the last two visits,to New Orleans for its annual trade show, the International Premium Cigar and Pipe Retailers have had their share of issues with Louisiana politics, enforcement and the state Department of Revenue. There were all kinds of taxation issues, both sales tax and excise tax-related at the 2005 edition of the show, just three weeks before Hurricane Katrina. That year, the D.o.R. also tried to get customer lists from major wholesalers so it could pursue taxation from Louisiana customers.

Last year, 2009, the state forced manufacturers and exhibitors, at the trade show, to pay excise taxes on every cigar they distributed. There were announcements, daily, on the show floor, reminding exhibitors to keep track of these cigars in order to report them at the end of each business day. Each afternoon at close of business, every exhibitor who GAVE AWAY cigars and other products, had to visit the representatives from the Department of Revenue and PAY taxes on those cigars, pipe tobacco or cigarettes.

This year, it will be different. The legislature of the State of Louisiana passed legislation that "Suspends, from Aug. 10, 2010, through Aug. 13, 2010, the state excise tax on cigars and smoking tobacco given away by a dealer" said State Representative Jeff Arnold of Algiers, Louisiana and friend of Cigar Weekly. When thanked and then asked by CW about the resolution as well as his role in it, Representative Arnold said "I helped with the resolution, but it was introduced by someone else."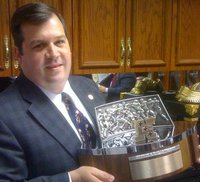 Rep. Jeff Arnold
In fact, the resolution was introduced by State Representative Joel C. Robideaux, the House Speaker Pro Tempore from district 45, of Lafayette, Louisiana.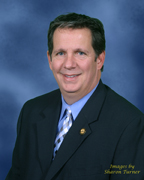 Rep. Joel Robideaux, author of resolution to suspend Louisiana excise tax, and state sales tax for duration of IPCPR show in August.
In an e-mail from IPCPR spokesman Chris McCalla, exhibitors are advised:
Understanding the financial stress exhibitors faced last year in dealing with the tax issue, the IPCPR's Legislative Office and our Louisiana state lobbyist, have been working on this exemption since last fall, finally securiing this critical tax legislation.

For the duration of the trade show, Other Tobacco Product (OTP) samples distributed on the trade show floor, or at show-related venues and events not at the Convention Center, will not need the state's 20% excise tax nor the four (4) percent use (sales) tax paid on those samples.
Last year, many exhibitors and retailers were frustrated with, what was seen as, confiscatory taxation, that actually cost them money, as they were not realizing direct revenue from the samples distributed, but still were forced to pay taxes. There were rumors on the show floor and at related events, that the IPCPR might remove New Orleans from its rotation of venues for future shows. This resolution, and the expectation of similar resolutions, in the future, should contribute to the show's return to New Orleans at a time of year when the tourist business is normally slow due to the typical, hot, humid South Louisiana summer weather.

Representative Joel C. Robideaux's WEBSITE
Representative Jeff Arnold's WEBSITE
Discuss this in the Smokin Post, Cigar Weekly Community Forums and Discussion Groups.