CWNews
Casa Havana Listed with Other Eateries




July

16, 2008 Wednesday
East Edition




AN OPEN PASS TO VARIETY



BYLINE: STEVE SPEARS, Times staff

SECTION: PASCO TIMES; Pg. 5


Chances are spending the day at John's Pass Village isn't something that has crossed your mind since the in-laws from Ohio visited a couple of years ago. That's okay, because with Bubba Gump Shrimp Co. set to open a huge restaurant at the tourist-friendly Madeira Beach retail area, now's a good time to rediscover a sometimes-forgotten center of Florida culture and kitsch. Before you head out, some quick tips: Bring a ton of change for parking meters, pick up a map of the center when you arrive, and budget extra time to navigate through all the roadwork and bridge traffic at the beach. Here are some highlights we found on a recent visit:
Smoke on the water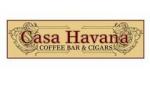 Casa Havana
Cigar
sits seemingly quiet across from Sculley's, selling hand-rolled
cigars
and Cuban coffee. But on weekends, the place fills with fans of salsa music as live bands and dance classes spice up the nights. At left, Cuba native Marcos Diez rolls a fresh
cigar
Wednesday evening at Casa Havana
Cigar.