First Look
A look at the newest cigars. If you have a cigar most of us haven't seen yet, send us a regular photo, digital photo or scan of a photo and we'll include the cigar on this page. Contact the News Editor for details.
Alec Bradley Tempus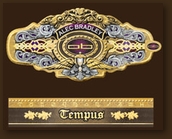 Alec Bradley Tempus (Latin meaning time)

Back in 2001 , while visiting a small farm tucked away in a valley on the Honduran, Nicaraguan border; I was shown a wrapper leaf being harvested in very limited quantities. Grown on just a few acres and not intended for commercial production, I knew this wrapper was something special. Over the next several years, I worked very closely with the farmer and purchased only the best wrapper from each harvest. I decided to keep a watchful eye and invest in this wrapper leaf for a special project. The time has come and that is why we call it Tempus. The tobacco used in this work of love are all from the finest fields in Central America. These harvests have been small and not massed produced by the "commercial" growers usually tapped for such a project. The results are clear. Aged tobacco with a full bodied yet smooth, satisfying smoke sure to appeal to the most discerning smoker.
The Newest line in the Alec Bradley Experience!
Alec Bradley Cigar Company, known for producing MAXX, Trilogy, Occidental Reserve and others, has decided to bring all future premium cigar releases to market under the Alec Bradley name. "Consumers request our cigars, but may not realize who is the maker behind many of our nationally marketed brands," states Alan Rubin, founder and president of Alec Bradley Cigar Company. In a move to bring cohesiveness to its portfolio, Alec Bradley's new releases will showcase a new look and a new Alec Bradley label.

Alec Bradley Tempus is the first release of the company's new strategy of using the Alec Bradley name as the primary brand. Rubin explains, "I decided to put our company's name on Tempus, because I know this cigar is something special. When I saw this wrapper tobacco on a small Nicaraguan farm in 2001, I could see it was extraordinary, something memorable. I checked back on it periodically over the next two years. Finally in 2003, I knew it was ready, and was thrilled by its appearance, flavor, and strength. Two more years followed, for the exhaustive process of sorting and selecting only the finest tobaccos and ageing the limited amount of wrapper to produce the Tempus line. Cigar enthusiasts will be equally impressed with the immense flavor and complexity, and the robust but very subtle power. Tempus is full-bodied but smooth ... its strength sneaks up on you."

The company's new flagship cigar, Tempus is available in 5 popular Cuban shapes ... 5-1/2" x 42, 5" x 50, 7-1/2" x 41, 7" x 49, and a 6-1/8" x 52 Torpedo. Alec Bradley Tempus is scheduled for release in April of this year with retail prices ranging from $6.25 to $8.50. Alec Bradley will host retailer parties nationwide to introduce the new Tempus line following its release.

Rubin sums up with: "The long period of time in developing this tobacco and cigar became a central theme in naming the cigars Tempus, Latin for 'time'. That theme is equally a tribute to the precious little time we take for ourselves ... we've created Alec Bradley Tempus to make the most of it."
Available in 5 popular Cuban shapes:
Corona 51/2 x 42
Robusto 5x50
Lancero 71/2 x 41
Churchill 7x 49
Torpedo 6 1/8 x 52
www.alecbradley.com