Interviews
Cigar Weekly Interview with Gael de Courtivron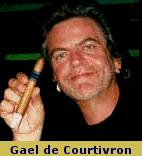 ---
Cigar Weekly: Please give us a little background, how did you get started in the cigar business? How long have you been in the cigar business?
Gael de Courtivron: That's a long, long story. I guess it's fair to say that as far as this industry is concerned, I'm one of the new kids on the block. I've been making cigars since the early 90s, but do not come from a cigar family. My background includes some 20 years as a professional Rock n' Roll drummer/vocalist, and several years as the owner/President of a successful Graphic Art company. I do however come from a prominent French Wine family, LOL! I began my career in the cigar industry by sheer happenstance, but my previous life experiences have helped me greatly. I suppose that my biggest asset is that I have a very refined palate. I know what I like, so I set off to create exactly what I think an enjoyable cigar should be like. In the early days, I was making cigars strictly for myself and for some of my friends. One thing led to another, and the rest is history.
CW: What are the brands currently in production for La Luna?
Gael de Courtivron: La Luna is currently producing the Maduro Fuerte, African Fuerte, and Little Havana Blend lines. In the spring of 2001, we will introduce the Natural Fuerte line. The three Fuerte lines will be our flagship lines, while the Little Havana Blend line is designed to be a budget conscious line that will probably only be available in bundles.
CW: You have discontinued a few lines. Why?
Gael de Courtivron: I have discontinued several La Luna lines for a multitude of reasons. One of the main reasons is simply because producing cigars in Miami has become far too cost intensive. Another important reason is that the availability of superior tobaccos is much, much better in Central America. The La Luna Reserva line however, was not discontinued, but since it was a 1996 reserve, the line just sold out.
CW: You are in the process of releasing a new line: the African Fuerte. What prompted you to release this new line and what can you tell us about it? When will it be released?
Gael de Courtivron: The African Fuerte line is really my "baby." I've always loved Cameroon wrapper, and firmly believe that if you blend a cigar correctly, you can produce a full-bodied Cameroon cigar, never having to sacrifice the delicate, spicy, flavor of Cameroon wrapper. I've been experimenting with the AF blend for well over a year. The reason the AF, in my opinion, is so good, lies in part with the quality of the wrapper. We are using a genuine, East Cameroon Kétté wrapper. This is the finest wrapper in the world. I have refined this blend over the past few months, and now consider it to be one of the finest Cameroon cigars on the market. The African Fuerte is without a doubt the fullest bodied Cameroon out there. Of course, aficionados will have to be the ultimate judges. The African Fuertes will be available in early January, and will be presented in beautiful chests of 30 cigars.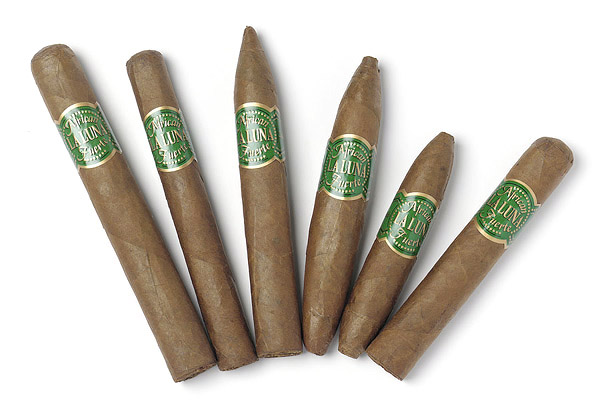 CW: What are the sizes and costs for these new cigars?
Gael de Courtivron: I firmly believe that cigar smokers shouldn't have to pay unreasonable prices for cigars in today's market. All La Luna cigars are very competitively priced. The La Luna African Fuertes, and Maduro Fuertes retail between $2.50-$5.00. Unfortunately, some people mistake our low prices with low quality. These people mistakenly think that if a cigar is low priced, it isn't really any good. However, being a small company, and keeping our overhead low, we are able to bring La Luna cigars to the market at very competitive prices. We believe that keeping our prices reasonable, and not getting greedy, will eventually pay off.
The sizes of the African Fuertes are as follows:
Perfecto (4 X 52) "AFP No.4"
Perfecto (5 X 56) "AFP No.5"
Corona (5.5 X 44) "Camaluna"
Rothschild (4 ¾ X 50) "Bantu"
Torpedo Corto (5 " X 52) "Tusk"
Robusto Largo (6 X 52) "Luna Park"
The East Cameroon Kétté wrapper leaves are small, therefore I had size restrictions to consider. For example, the longest cigar that can be made with this wrapper is the 6" "Luna Park".
La Luna will be releasing a very limited special edition, AFP No.6 Perfecto, in December of 2001.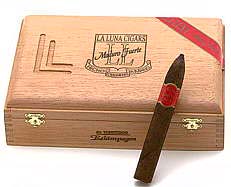 CW: What is next for La Luna? Any other lines planned after the African Fuerte?
Gael de Courtivron: As I mentioned earlier, we do have other lines planned for the near future. In the spring of 2001, we will introduce our third line of Fuertes; the Natural Fuertes. We are also planning future releases of some milder, as well as some medium bodied cigars. At this time, I am also developing some proprietary blends and trademarks for some other companies.
CW: When we last talked, you were moving your production to Honduras and changing manufacturers as well. Can you tell us about that? Do you plan to keep any production in Miami?
Gael de Courtivron: I moved my entire production operation to Danli, Honduras in late 1999, but let me clarify this; it is possible that we may start producing a limited amount of cigars in Miami again in the future. I have not ruled that out. However, for the time being, my focus is on my production from Honduras.
CW: What percentage of your cigars do you sell direct versus through retailers? What are your future distribution plans?
Gael de Courtivron: 2000 was really a re-structuring year for La Luna Cigars. This year, we have picked up a substantial amount of new retailers, and La Luna now has a national sales manager and several sales reps in place. Our product will shortly be represented in every state. At this time, approximately 80% of our sales are through retailers, and the other 20% are from the internet, and are primarily to Lunatics. Our main reason for selling direct is for market penetration, and in the future, the only direct sales we will have will be to the Lunatics.
CW: What is the approximate production of La Luna Cigars?
Gael de Courtivron: Our current production capabilities are just about unlimited, however, because of my commitment to quality, I have decided to limit the total La Luna production to 40,000 cigars per month at this time. These numbers will most likely increase in 2001. We are projecting that we will manufacture some 500,000 cigars in 2001.
CW: I've seen pictures of Marta and seen her name mentioned often on your website. Who is this Latina beauty?
Gael de Courtivron: Who is Marta? Hmmm. This "Latina beauty" is simply the most incredible woman I have ever met. J. Marta Peréz is my partner, my "pareja", a world class roller, and La Luna's Grand Master. Marta is from Honduras, and she has 27 years of experience in the cigar industry. In the early days, Marta worked under, and was mentored by, Estelo Padron. She has worked in several different factories, including a fairly long stint at Consolidated Cigars of Honduras, before coming to the U.S. in 1996. At the urging of some of her friends, Marta came to Miami specifically to start working for La Luna Cigars. I met her, fell in love with her, and the rest is history. Marta is proficient in all schools of cigar making, including the Cuban method. Her vast experience and knowledge of cigar making has been a vital part of our success. And, like you say, Marta is a beautiful woman to boot. She is graceful and mesmerizing, and is always a pleasure to watch when she is making cigars.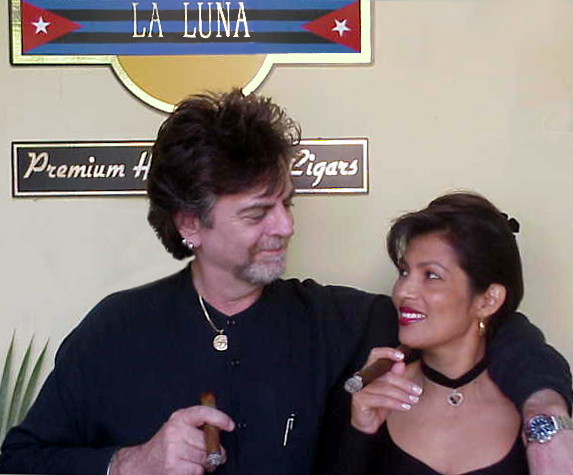 ---
Member Questions

BrianCombs asks, "What are your favorite non-La Luna cigars?"
Gael de Courtivron:Brian, that's a really tough question because there are many cigars out there that I enjoy. Which ones are my favorites? I suppose that a good barometer of this would be to focus on what cigars I have made an effort to procure for myself. I do have several boxes of Fuente products, Padron Anniversarios, Carlos Toraños, El Originals, Camacho Corojos, aged LGCs, Nick Perdomos, and a fair amount of Cubans cigars which were legally imported into the country (directly from Havana by Cuban-Americans here in Miami). I will tell you however, that for the most part, the outstanding Cubans cigars I was smoking several years ago, are now few and far between. Just because they're Cuban does not necessarily make them good anymore.
dfrjr30 asks, "Is it possible that we may see the La Luna cigars in more local cigar shops soon?"
Gael de Courtivron: dfrjr30, You can count on it.
IronBar asks, "Although Gael has told me the story before, I think others might like to hear about the very early history of £a £una Cigars and how Gael transitioned from what he was doing, into making cigars."
Gael de Courtivron: Ironbar, That's a long, long story, which I'm saving for my memoirs, LOL!
JGIORD asks, "What type of flavor changes were you searching for when you changed the blend of the Maduro Fuerte from the pre-release blend to the current existing blend, and are you happy with this blend and plan on keeping it? Do you see the discontinuation of some lines (e.g. the Java Reserve and Reserva lines) and the blend changing of others as detrimental to the brand name's credibility or do you still considerate it a part of the growing process?"
Gael de Courtivron: JGIORD, The Maduro Fuerte blend was never changed. The simple truth is that my previous factory did not effect the Maduro Fuerte blend precisely; nothing more. We just were not on the same page. This is a difficult and precise blend to make. The cigars however are now being made correctly. Yes, of course I intend on keeping my blend the way it is.
The '98 Java Reserve, and the limited '96 La Luna Reserva line are no longer available because these lines have sold out.
I do not consider any changes or discontinuations of lines as a credibility issue, but rather as a testament to my growing experience and maturing talent as a cigar blender and maker.
Keith_S asks, "I'm interested in more about your operation I know that there has been some discussions or maybe even expressions of concern on the various BBs about the length of time it takes from the placement of an order until it is received and I think that it might be helpful for customers to have some idea of the size and make-up of La Luna Cigars."
Gael de Courtivron: Keith S. We are a small company, and being a small company does have it's drawbacks. It is true that we sometimes take a little longer than we would like to process and ship an order. I am well aware of this, and here is one reason:
I do not believe in keeping cigars already boxed in my humidor. All the Miami made La Luna cigars are kept in Mazos of 50. Therefore, when we receive an order, we select and inspect the cigars, color sort them, band them, cello them, and box them for the particular order. This insures that the cigars are fresh and perfect. La Luna cigars are more like a "home cooked meal", versus fast food. However, since the Honduran produced Fuerte cigars are boxed at the factory, shipping in the future will be far more expeditious.
Keith_S asks, "The loyal group of £unatics out there feel a personal connection to Gael and Gael's relationship to his customers strikes me as somewhat unique in the business, so it might be interesting to discuss that."
Gael de Courtivron: Keith S, Although I strive to have a personal relationship with both my customers and retailers alike, the relationship I have with the Lunatics really is unique. I can't really explain how it came to be; it's one of those magical things that just happened. The Lunatics are the heart-beat of La Luna Cigars.

RedRock asks, "Gael, have any of your cigars ever been produced entubado?"
Gael de Courtivron: Red Rock, of course they have. I have often utilized the "entubado" process to produce cigars. It really depends on the blend and what characteristics I want from the cigar. Unfortunately this subject has become moot. I really don't get all the BS that this subject has created.
puffman asks, "Gael, could you comment on the state of the evolving H2000 wrapper and whether or not you plan on making a La Luna cigar with it?"
Gael de Courtivron: Puffman, I have been experimenting with H2000 for over 18 months. If H2000 wrapper is properly fermented and selected, it can be quite good. At the present time I use it for binder, but don't be surprised to see a La Luna H2000 cigar in the future. It can be very good, if blended properly.
WDENT asks, "Is the La Luna Little Habana Blend and the de la habana a current production cigar? Are there any plans on making another shape in the Maduro Fuerte line?"
Gael de Courtivron: WDENT, the Miami made "La Luna Little Havana Blend" is no longer a current production cigar, although we have resurrected this trademark for production in Honduras. The "de la Habana" trademark on the other hand, has been permanently abandoned.
Yes, we have just introduced a new Maduro Fuerte Vitola; the "Hoyo Negro". This 4 ¾ X 50 Rothschild is guaranteed to be a real ass-kicker!
BogieMan asks, "I would like to hear a bit about his early days as a studio musician and touring with Robin Trower, Alice Cooper and the like."
Gael de Courtivron: Bogie Man, You know, my memory of those early days is now becoming quite blurry, LOL! I wonder why? I spent some time with Procol Harum in 1967, and as I recall, it was Robin Trower's first professional tour. I remember Robin as a skinny little Brit who's SG seemed gigantic. I also recall that he had an enormous affinity for Jimi Hendrix. As young as he was, he was already a very promising guitar player.
I met Vincent Fournier, aka Alice Cooper in early 1971. Vincent was a really normal guy, and since he's French like me, we hit it off very well. Alice on the other hand, was an entirely different story, LOL! He told me many times, " when Alice takes over, I have absolutely no control over what he does!" And that was the truth, LOL!
Lux asks, "Which of the bands you toured with had the best groupies (and why)?"
Gael de Courtivron: Lux, I cannot discuss my past indiscretions on this forum. I'm sorry, but it wouldn't be prudent, LOL!
CW: Thanks to Gael de Courtivron for answering our questions.