Interviews
Cigar Weekly Interview with Carlos Diez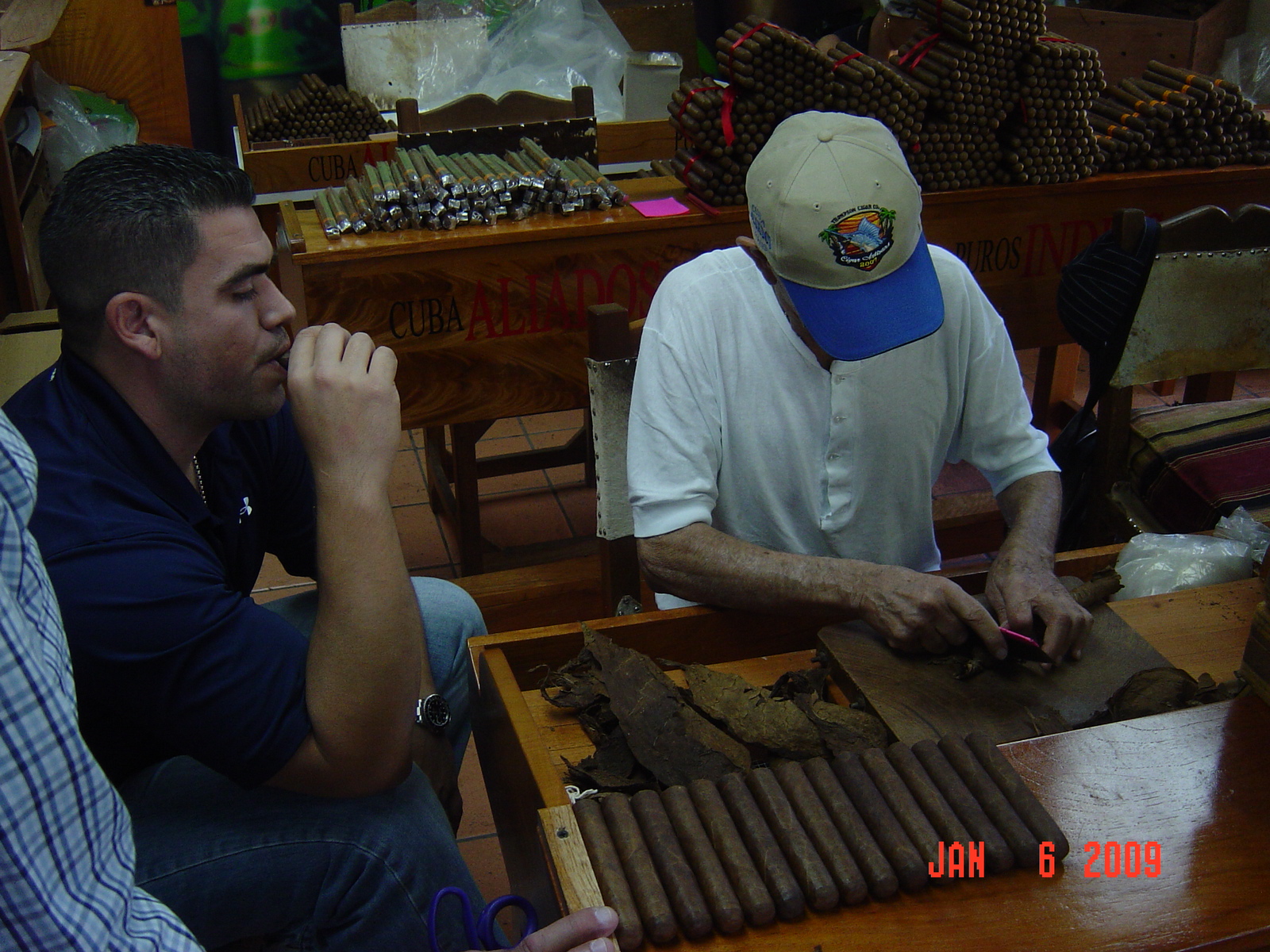 The past year and a bit (going back to October of 2007, around the time of the unfortunate passing of Ed Guevara, Cubano67) has been quite momentous for Cigar Weekly. Over this period, the owners and administrators of Cigar Weekly have recommitted themselves to the publication side of the site. And they have been aided in this enterprise by an invigorated supporting cast of editors and contributing writers focused on the challenge of bringing news and feature articles to the CW membership, as well as to the general cigar and pipe-smoking public, on a weekly basis.
Coincidentally, great changes have also taken place within one of the tobacco industry's most illustrious families, the Reyes. Don Rolando Reyes, the patriarch of the Reyes family and founder of Fabrica de Tabacos Puros Indios, announced his 'retirement', naming his grandson Carlos Diez as President. Almost immediately, Diez, wishing to honor his grandfather's legacy, decided to rename the company Reyes Family Cigars. Cigar Weekly was right on the spot to report these events, and consequently had the opportunity to interview Carlos Diez soon after his appointment.
Now, 2009 is upon us. And it therefore seems entirely fitting that Cigar Weekly should once again touch base with Carlos Diez. We would like to thank Carlos for sharing a bit of time with us to discuss his first year, and what it's like for someone of his generation to run a company held so dear by so many down through the years.
CW: In general terms, how was 2008 for Reyes Family Cigars?


Carlos Diez: We had a great year, considering the effects the recession had on our economy, especially in the latter half of the year when the general consensus was that we were definitely in a down-turn. We are also fortunate that we don't have any debts to banks or anyone else. We own everything we have, and I can now thank my grandfather for his 'old-school' mentality. He does not believe in loans or anything of that sort.
CW: How was the initial reaction to the 'rebranding'? What have you and your people heard as they tour the country?
CD: We had a very positive response, with a few questionable reactions sprinkled in. A few of our loyal customers thought we were going to phase out the Cuba Aliados and Puros Indios brands. We assured everyone that those brands are still going strong and will continue to be manufactured.
CW: A year ago, you had your representatives touring with your new Premier Line. How has that been for you? Is it a good seller? I know it got a good review here at Cigar Weekly.
CD: The Premier has done well, but could have done better. Unfortunately, it is not a powerhouse maduro, and many were expecting it to be a full-bodied cigar. It is definitely an extremely rich, medium-bodied cigar.
CW: Not long after, you also introduced the Classic. How has that been received? If you would, take a moment to remind us what these two lines represent, and what is the basic blend and flavor profile for each.


CD: The Classic actually exceeded our expectations! We basically took the Puros Indios blend and tweaked it a bit, added a little more flavor to it. It is a mild and creamy cigar. We use an Ecuador Sumatra wrapper and binder. The filler is a 4-country blend from the Dominican Republic, Ecuador, Brazil & Nicaragua.
CW: I've seen the Vintage on your website. With the almost immediate news of the release of the Premier, after re-branding, it was clear that this had been in consideration for some time.
CD: The Vintage is actually the Viejo line with a new name. The blend has not changed. It is our aged selection. All tobaccos are at least 8-years old. The current 2009 batch was rolled back in 2001. We only release roughly 3,000 boxes of these per year.
CW: How do you hide wrapper leaf away for eight years (the Vintage features an Ecuadorian Sumatra capa that has been resting for eight years)?
CD: We don't hide any tobacco. But as for the Viejo/Vintage line, these cigars were 'rolled' in 2001. Were talking about roughly 45,000 cigars spread out in 5 sizes, so its really not hard to store 'yearly lots'.
CW: Changing focus a bit, if you don't mind... What's it like to be the President of a company, in general?
CD: Well, I certainly am now much more accountable for everything going on here. I enjoy the praise when things are going good. But on the flip side, when things are a little rough, I am the one who is responsible for getting us through it. I welcome the challenges, and learn something new every day.
CW: More specific now, how about President of a company that's almost entirely family run, bearing your family's name?
CD: It's an awesome task. Pride is a cliché term. But it is the pinnacle of pride when you can represent your family in this manner. I am truly blessed.
CW: Your grandfather... Let me ask a couple questions. From last year's interview, I got the impression that he's not the type to retire. So he retired and turned over the company. Is that all that happened? I can't picture him walking away.
CD: Please don't use that word. It is not in his vocabulary. As a matter of fact, he is still working as hard as ever. When he promoted me, he simply let me know that he was ready to trust me in handling the day-to-day operations of our company, and knows I can handle it quite well.
The 'not-retired' Don Rolando Reyes with torcedores
CW: You said then that he was your hero, that you were quite similar. Does he still play a role in the company? If so, is it a philosophical role, keeping a certain attitude? Does he still keep his hands active?
CD: As I mentioned, he has not retired at all. He is still the one running the factory in Honduras. He also just finished setting up a small factory here in our Miami offices. The man outworks me. He is up before me and still finishes after me. It still shocks me how much energy he has. He still rolls cigars, he still sorts, he still blends. The man can still do it all. I don't know anyone like him.
CW: What challenged you this year, and how did you work through these circumstances?
CD: The biggest challenge is preparing for the S-CHIP and what tax will be levied against us.
We definitely won't let this affect our pricing, and have set ourselves up quite well to absorb this and continue to be profitable and offer affordable, quality cigars.
CW: Is Reyes Family Cigars where you expected to be at this time? What goals did you set for the company and yourself last year? Did you reach them, or are you on target to do so?
CD: We are right where we want to be. We are not a big company, and have never aspired to reach that status. We are, and will always be, your typical Mom & Pop operation. You can call the office, and any of our family members will answer the phone. My mom, my dad, my brother, my grandfather if he is in town. This is just who we are. We are not into styles, trends, etc. Trends come and go. They are cool one year, then they fall off the map the next. We just keep doing what we've always been doing - making great cigars and keeping it simple. That's our formula.
CW: What do you think 2009 holds for you and RFC? What would you like to achieve this year?
CD: 2009 is going to be an interesting year. I have seen consolidation within the industry, and that just inspires me to stay within our foundation and our formula as I stated on the previous question. This year, we intend to get more creative with our Miami based factory. We will be making different small-batch blends, which will allow us to be extremely selective about the quality of our cigars. Be on the lookout for the new Cuba Aliados Habano wrapped Miami version. It is an amazing smoke.
Puros Indios Factory and Shop, Miami

CW: How do you foresee company growth? Can you sustain growth without overreaching? What longer term goals can you discuss?
CD: We have always maintained a 5-10% growth since the end of the cigar boom, circa 1998-1999. This growth is great for us because it is the best type - controlled growth.
Long term, I just want to continue the family legacy and enjoy the camaraderie that our industry provides us, with each cigar smoker. I'm not into huge financial goals. I am happy the way things are going.
CW: Speak, if you would, about politics and the barriers being placed all around the tobacco enthusiast? SCHIP is already huge; it's being discussed in many quarters of the tobacco world. What are your thoughts on it, on taxation as a whole and smoking bans?
CD: It's obviously a very unfortunate circumstance. And whatever logical arguments we make against it, the general public and our government just refuse to listen. I still think that the everyday smoker still has no clue about what is going on. The CRA is a great idea, but it may have come a little too late, but will hopefully protect us for the long run.
CW: What all can we do to combat these infringements? Are you active in organizations that are working to oppose these laws?

CD: We support the CRA, and I am active with our local politicians with our concerns. We have meetings with our state senators, along with fellow cigar manufacturers.
CW: What about Cuba and Obama?
CD: I am not politically savvy enough to give you an informed opinion on this matter.
I always pray for the best for the people of Cuba, the country where my family is from.
CW: How is Reyes Family Cigars positioned? Should there be legal trade again with Cuba? Have you given thought to possible blends with leaf from Cuba? Would it even be possible to get Cuban tobacco?
CD: For as long as I can remember, my grandfather has always mentioned that when Cuba opens, we would be among the first to arrive and begin manufacturing. Obviously, it's not as easy as that sounds. But we do have a plan in place, and have had it for some time. As for the tobacco, we don't know that answer yet. But if supply is going to be an issue, then we'll have to put our 'farmers hat' on and begin planting seeds. Whatever it takes will be done! My grandfather has a saying: "No hay gloria sin sacrificio," meaning there is no glory without sacrifice.
CW: Do you have any parting comments until next time we meet?
CD: I can't thank you enough for Cigar Weekly's support. Your site is fantastic, and I have been a member for many years. Keep up the good work, and I look forward to interacting with my fellow CW brethren.
CW: Speaking for myself, I certainly enjoy these discussions. And it means a lot that you're willing to take this time with me. I know our readers certainly enjoy the perspective you bring to them, and the knowledge within this pursuit that has such a hold on our imaginations. Thank you so much for sharing your time and your candor with us.
_______________________________________________________
Thomas Bender is a husband and father of two who hails from Greater New Orleans, Louisiana. He enjoys fine cigars, good food and even better friends, usually at the same time in some form or fashion. Often times, at least in the fall of the year, these activities are also tied to following the Fighting Tigers of Louisiana State University. A university reference/outreach/database librarian, and Church musician, he spends entirely too much time and keystrokes perusing internet forums and doesn't know when to stop typing once he gets there.