Interviews
A Conversation with Jose Blanco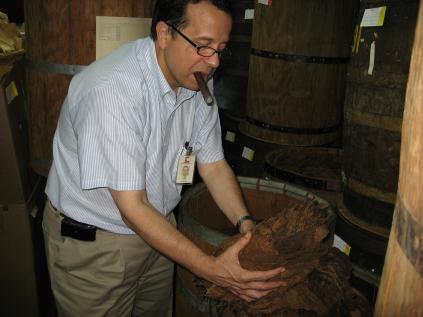 Cigar Weekly: Jose, last year was a big one for La Aurora in that you moved the whole factory into Tamboril from your location pretty much downtown in the Léon Jimenes center.
Jose Blanco: Well any move you make in industry is going to take up time and give you disruptions. On the positive side, there are things that you find that you never knew you had even though you keep a pretty tight control and you discover you have maybe two or three bales of 10 year old tobaccos that you think you used up and the move is good and bad. Now, we are in a bigger facility everything is more integrated and we can make cigars faster now.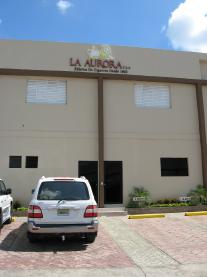 The exterior of the La Aurora factory.

Cigar Weekly: But it did mess up supply?
Jose Blanco: Yes, I think we had probably close to a 45-day delay on some things. The problem was we had hoped to move early in the summer, but it ended up happening in October after RTDA. Logistically it was tough. We had to build out our facilities, including our new aging room-which basically doubled in size-and then carefully move all the tobacco and our cigars which were resting. We actually got the factory in before we were able to move all the offices. It certainly made things interesting this past fall. We ended up with a lot of back orders but now we have been catching up. Since the new factory is bigger, we have been able to add rollers in the new facility. We've increased by about 30 to 40 rollers.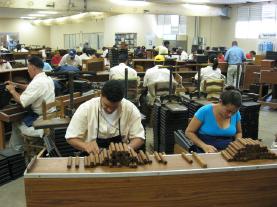 Rollers at work in the La Aurora factory.

So we are up to about 200 rollers in the new facility. But remember we still have 14 at the other factory, the Preferido factory which remained at the old location in the replica of our original factory.
Cigar Weekly: Was weather another problem this year?
Jose Blanco: Yes, the weather this year was bad. Besides our move, in the fall, we had tropical storms Olga and Noel. They stalled over the country and caused massive flooding in the Cibao valley. The baby seeds in the beds were hurt a lot. But after Olga was gone in December, we were able to get the crops in and the weather improved. So far, things have calmed down and I think we will have a good crop. It certainly will not be as good a crop as what we had the last two years when the conditions were just perfect, but it is looking good for this year.
Cigar Weekly: Was all this the reason you delayed the release of the Barrel Aged and the Léon Jimenes Series 300 cigars?
Jose Blanco: The 300 was a different issue. When we got to RTDA, we realized we did not like the packaging and we wanted to let the cigars rest a little longer. The 300s with their Cameroon wrapper will come out towards June or maybe at RTDA in July. They have been made for 2 years now and they just keep getting better.
Senor Blanco with some of the barrel-aged tobacco leaves.

As for the Barrel Aged, they will come out this spring. We have done a sneak preview with one size, but we will ship all four sizes, corona, churchill, robusto and belicoso in April. The wrapper is an oscuro Corojo grown in the Dominican Republic. The binder also is Dominican. The filler is mostly Dominican with a little Nicaraguan-- about 80 percent is Dominican and 20 percent is Nicaraguan. We are aging all the tobacco in rum barrels for a year.
We got the idea because we have been doing that with filler and binder for the Preferidos since their inception. We got to wondering how it would affect the wrapper so we experimented and came up with the Barrel Aged. To me it helps the color of the wrapper, which is already 3 years old, be more uniform. We are getting that great oscuro color. The barrel aging also brings out the best of the tobacco; you get a more round, licorice sense to it. The liquor and wine industry has been using barrels for years to improve its products and it worked well with the filler and binder. So now with the wrapper, the barrel aging brings a whole new dimension to the tobacco. We keep the filler, binder and wrappers in separate barrels. They don't join until they are rolled, then we give it another 6 months in the aging room so the flavors can marry.
Cigar Weekly: And the Cien Anos, are they gone?
Jose Blanco: We only have a few boxes of the Cien Anos left. We'll probably use them for special events. We said we would only make about 400-thousand Cien Anos and we've kept our word on that. But with that said, we do still have tobacco left over that is aged and we have the runner up blend to the Cien Anos. To come up with the Cien Anos blend we went through 40 to 50 blends before narrowing it down to the final two. So we might do something with the tobacco and the other blend, but it would not be a Cien Anos.
Cigar Weekly: What about this contest you and Stinky are running?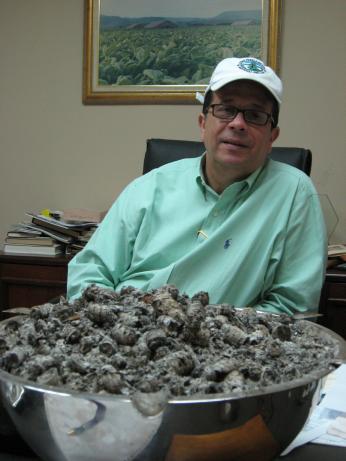 Senor Blanco with his full Stinky ashtray.
Jose Blanco:
Well it was something we wanted to do for fun. As you know, for years I had a Stinky ashtray on my desk and I always kept it filled with simply ashes of the cigars I had smoked. When Stinky came out with the huge herf edition at RTDA you threatened to get me one to try to fill up. And then you and the guys from Dallas did get me one in February of 2006. I took it as a challenge to fill it up in a year or less. By October, I had it mostly filled. In talking with Stinky about it, we decided to make it a contest for people to guess how many cigars it took to fill it. As you know, there is no cellophane, no bands, no butts only ash. People have until March 13
th
to submit their guess via Stinky's website (
http://stinkycigar.com
). The winner gets a box of the 1495 Connoisseur Selection which is 100 cigars and a herf edition Stinky of their own. Stinky and I have prizes for a few other people too. We just think it is fun.
Cigar Weekly: So what about the Connoisseur Selection how is that going and why did you do it?
Jose Blanco:We did it more as a learning tool than anything else. People are always asking what the wrapper means, how much does it change the flavor and many smokers want to learn the difference in wrappers. So we took the 1495 with the Ecuadorian Sumatra wrapper and just changed out the wrapper. Now with the Connoisseur Selection you have the opportunity to smoke the same filler and binders with five different wrappers - the original Ecuadorian Sumatra, Connecticut, Corojo, Cameroon and Brazil -- in a size that is adequate to let you taste the differences -- the robusto size which is the most popular size in the states anyway, by far. I have said it for years one of the biggest problems within this industry is a lack of good information so people can learn. Now there are a lot of people who are going to walk into a store and they want that 5 to 6 dollar cigar and they don't want to be bothered about anything else. But there are a lot of people who have traveled to the Dominican Republic, Nicaragua and Honduras and want to know about cigars. They even go down to Miami just to visit a cigar factory because they want to know and learn more about cigars. That is our target with the Connoisseur Selection. What also is interesting is how the new four are selling...the Cameroon, Brazilian, Corojo and Connecticut. It really depends on where the people are. Some have said the Corojo is the best they have had in years. For some guys it is the Brazil, and still others it is the Cameroon. In Arizona they really like the Corojo. In Miami, they really like the Cameroon. In the Northeast it has been a tossup between Brazil and Cameroon. Others really like the Connecticut. It really has been fun.
Cigar Weekly: So what else are you working on?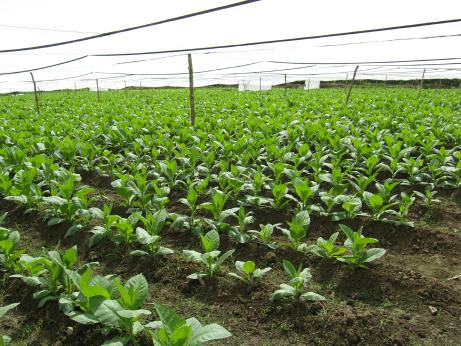 Young tobacco plants at La Aurora's farm in Nicaragua.

Jose Blanco: What we have been working on is mainly on growing more wrapper. We have a special project going on in Sabana del Puerto near Bonao, which is where Guillermo's father began growing wrapper in the 60s. There used to be a lot of rain there and after many years of trying to grow wrapper, we gave up because of the weather. But this year, the climate has changed and the rain is a bit less so the wrapper is growing better. We have a fine corojo wrapper grown there. The Cubans lately have come up with new seeds. We have been growing some of the new seeds at Sabana. We are actually going to start using them for tasting towards the middle of this year to see what comes up. We'll see how it goes but things look good. Of course we won't know for a couple of years.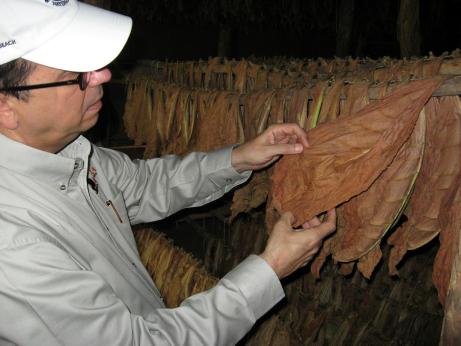 Senor Blanco evaluates tobacco that is curing.

And of course we are always looking for new blends. The thing about the business is if you come up with another Connecticut, or Maduro or another Cameroon it is not going to happen. You have too many great cigars out there. I would say today you have the greatest cigars in the history of tobacco that have been made in the last 3-4 years. Every year it is more competitive and you have to come out with something unique.
Cigar Weekly: I am guessing things will get even more interesting in the coming months.
Jose Blanco: Yes definitely. The funny thing is I am going to say the next 18 months, if you look at who owns who now and check again in the next 18 months there will be a lot of change. The big guys will try to get into niches of the market and make their portfolios better. You have cigarette people interested in a piece of the cigar pie. You have small cigars and the flavored segment which is growing. On top of this you have the announcement of Castro turning power over to Raul, it could foreshadow a possible lifting of the embargo. When that happens, you will most likely see blends of Dominican and Cuban tobaccos...whole new blends and whole new cigars. I think that is the future, adding Cuban tobacco to Dominicans. In my mind, it will bring more dimension the Cuban puros and possibly add a new layer to our cigars. It is going to be exciting.
Cigar Weekly: Thank you very much for talking with us.
___________________________________________________________
Frank Seltzer (Mowee) is a former network correspondent who now owns a media consulting company in Dallas, TX. A regular cigar smoker since 1973, Frank runs the DFW Cigar Society, a group that has almost 300 members who get together twice a month to trade smokes and lies. He also runs away as often as he can to his condo in Maui... hence the name Mowee (which, by the way, was the way Captain Cook originally spelled the island when he heard Hawaiians speak it.)