Interviews
Cigar Weekly Interview with Murray SawChuck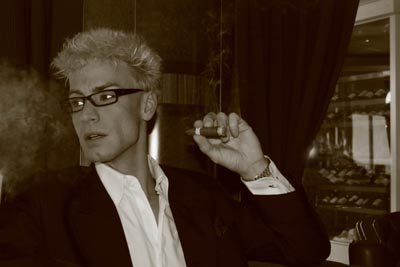 Cue Heart. "He's a magic maaaaaaaaaaaaaan... he's a magic man, Mama." When I used to watch cable network VH1, I'd just as likely come across the video of "Magic Man" from Ann and Nancy Wilson's Heart as I would any slightly more sophisticated or eclectic offerings ranging from Pat Metheney, Chris Isaak, Al Argenti's favorite Indigo Girls or Edie Brickell and New Bohmeians to Fine Young Cannibals, 1970s left over Poco (trying to make a new start), .38 Special, Don Henley... well you get the idea. Eclectic mix about sums it up. Over at MTV, things were different. Twenty years later, we ask ourselves, "What's a music video?"
VH1, like so many networks, has evolved over the last so many years. To the outsider, it may appear to have forgotten from whence it came whilst to devoted fans, it offers interesting glimpses into the lives of the celebrities so many seem to desire viewing (or even emulating) in our media-driven culture. From music videos to celebrity magic, the path has veered. Of course, 'celebrity' doesn't quite refer to the Meryl Streeps, Jack Nicholsons and other A-listers. Meet Celebra Cadabra, VH1's show where various personalities shadow accomplished magicians to try and learn the art and craft of magic in order to be able to put on at least one act of their own.
The other side of this coin, discussing 'celebrities', is the exposure it gives to accomplished, working magicians. Despite our electronic age, where 'tell-all' has become an obsession of much so-called journalism, there are still wonderfully entertaining people carrying on tradition and simultaneously keeping magic relevant. Say hello to Murray SawChuck.
Murray doesn't look like any magician you'd picture in your mind's eye, does he? In fact, when I first received e-mails from Murray himself, I too was skeptical. I'm anything BUT cutting edge. So when I clicked the link to Celebra Cadabra, I was even more surprised. "It's VH1," I told myself. You're perhaps wondering how I can possibly tie these threads all together, and why they are at all relevant to a cigar magazine. Well, take a look at the photos. One of Murray 's many quality traits is that he's one of us - that's right, a 'Brother of the Leaf' (BOTL). I mentioned I was skeptical, right? When I first heard from Cheryl, Murray 's publicist, I fired off a series of questions about Murray 's enjoyment of cigars.
Murray responded to my questions almost immediately, and in person. He even convinced me that our 'introduction' could turn into a real adventure should we decide to speak to one another or do an interview. As events unfolded, I actually ended up putting those questions to him again (rather than just adding the original versions into this article). In doing research (mostly on You Tube), I've learned that should you allay your fears, you might be pleasantly surprised. Besides, if Murray doesn't quite do it for you, Lisa Ann or Kimberly Wyatt may well be suitable alternatives.
Cigar Weekly is proud to have this opportunity to speak with Murray SawChuck.
Cigar Weekly: Thank you for this, first off. Before we get to pressing matters, tell us a bit about yourself. How did you become a showman? Was magic always your goal?
I started at a very young age. At 5 years old, I started Ukrainian Dancing and played the accordion. My father, John, was a musician and played in bands when he was younger. That's where I might have gotten my show business interest from. My Mom Arlene, she was always creative with making arts and crafts or sewing all sorts of things, and that's where I got my creativity from. Then, at age 7, I got my first magic kit from my uncle and aunt (Bill and Olga Sawchuk), and the rest is history! I graduated high school and college, had 21 different jobs before doing magic and comedy full time.
Magic wasn't my initial goal, but entertainment was... I LOVE entertaining people! It's like a drug. It's equal to sex! To take people out of the real world and take them to your world for an hour or so is a wonderful thing. Now, over the last 4 years, I have angled my whole style to comedy and being a personality. I think to love people is to love entertainment, 'cause without people you have no one to entertain.
CW:
What was your first break? From there, how and when did you get to
Las Vegas
?
Oh... great question. I think I've had a lot of little breaks that have turned into one big break, which is me performing for a living touring the world! What are the chances that I get a magic kit one day and now I am doing it full time. I could have chosen any other profession and it would have been easier. Who looks at magic or comedy and goes, "Wow there is an easy way to make a buck... HA!"
My first break would have to be when another uncle and aunt of mine, Uncle Bill and Aunt Ilene, booked me when I was 11 or 12 to perform for their grandson's birthday party. I did a half hour show and got paid $10.00! Wow... $10.00 for 30 minutes at 11 years old! I am RICH!!! At 11 years old, that is a lot of money for doing something you love and getting paid for it. After that, I would have many other breaks from performing in Brussels, Belgium as my first European appearance, which lead to many other contracts in Europe . One of my biggest breaks in Europe was performing in Paris, France their version of the Tonight Show called Le Plus Cabaret du Monde (which means 'The Worlds Greatest Cabaret Acts'), which is aired all across Europe... and then a later contract in Monaco, Monte Carlo performing at the famous Monte Carlo Casino Le Cabaret with the cast all the way from Havana, Cuba from the famed club The Tropicana. They brought over the full orchestra, dancers and a few of their famous cigars!
After that, I performed at the famed Hollywood's Magic Castle and did guest appearances on the Jerry Lewis MDA Telethon at CBS Studios in Los Angeles along with other stars like Celine Dion and George Wallace, TV shows like Celebrity Blind Date, Comedy Central's Reno 911, and my latest TV series VH1's Celebracadabra.
Las Vegas... Hmmmmmmmmm... That was a big dream of mine. I was living in Orlando, Florida at the time and was married. But I knew I needed to be on the West Coast in Los Angeles, Hollywood and Las Vegas to really make things happen for me. So I started to write agents, producers and managers that my focus was Las Vegas and I was looking for someone. I got about 6 interesting offers but, "who really could do it for me?" I flew to Las Vegas and stayed over night at Terribles Hotel and Casino, a little cheap hotel off the strip, and had my meeting with the agent, manager and producer who were interested in bringing me to Las Vegas. Well, 4 months later, I was in Las Vegas after my Canadian Tour, opening at The New Frontier Hotel and Casino with an afternoon show as one of the youngest headliners on the Las Vegas strip. After that, I performed at the Flamingo, Planet Hollywood and MGM Grand Hotel and Casinos.
CW: When did television/VH1 become a reality?
Well, it really is amazing that most people who watch TV have no clue how long it takes for someone's idea on paper to become a reality. It took 2 years for Celebra Cadabra to finally air on television. I was performing in
Hollywood
at the time and I got an email on my website
www.murraysawchuck.com
inquiring about a press kit and DVD to possibly host a new VH1 TV series on magic. I get many inquires, so I wasn't really sure it was real or someone just trying to get a press kit from me. I had my manager check it out and, sure enough, the address and phone number were directly connected to VH1 / MTV Networks in
New York City
. They received my material and showed an interest. At that time, I was booked to play back in Europe again - actually the Mediterranean on the
island of Cyprus
(which is half Cyprian-Greek based and half Turkish). I was booked to perform there for 3 weeks. On my return flight back to the
USA
, my layover was at JFK airport in
New York
. My manager asked VH1 if they would like a meeting with me as I was going to be in town for one day. They said, "YES." I bumped my flight by a day, stayed overnight, had a meeting with them... and it was a BIG meeting. I met with all 3 heads of the project - not a casting director or secretary. I met with all 3 Executive Producers - talk about nerve racking. But at least if it was a NO or a YES, it came from the top. It was pouring rain that day in New York - rain like you would never believe... raining cat's and dogs like I have never seen. Yes, actual cats and dogs were dropping from the heavens. The meeting went great! I flew back to Las Vegas for some more shows. A few months later, my manger gets the phone call... "We want Murray to be a part of our pilot episode of Magic Celebrity Challenge (this was the pilot's title)." We shot that all week in February 2007. It was the most fun I have ever had on a shoot - long days, hard work, but just a great working environment.
The pilot was then put together... Now to see if it was going to be picked-up by the VH1 network. I was on tour in South Asia, touring
Singapore
,
Thailand
,
Malaysia
,
Vietnam
and
Hong Kong
, when I got the phone call telling me, "Congratulations
Murray
... It's a GO... You've been confirmed to be on the TV series... Contracts will be forwarded in the next few weeks!"
I thought, "Wow is this really happening." A kid from Burnaby, British Columbia, Canada got a magic kit for a birthday gift at 7 years old and now is on his first TV series shooting in Hollywood for the next 7 weeks! To me, it still wasn't reality. It was real the first day I walked on set after waking up in my hotel room in Hollywood after flying to LA from Vegas that night... having my make-up done, coffee brought to me and a personal assistant walk me to the set. I saw over 64 techs, crew, grips, producers and assistants, over 10 cameras and more equipment than I have ever seen. Now it was real. I just wanted it to last forever. Everything I dreamed of as a kid I was living it. I flew my parents down for our first two weeks of shooting in Hollywood because I really wanted to share this experience with them and have them be apart of it. And ironically, both of them are in the first episode in the audience watching us perform, so that was a neat little extra bonus I'll be able to share for the rest of my life!
CW: Tell us a bit about Celebra Cadabra, if you don't mind. It only ended a few weeks ago, and didn't run very long by design it seems. Did you have any say as to who you'd work with?
Celebra Cadabra is a show like Dancing with the Stars where celebrities are paired up with celebrity magicians to compete against one another for a grand prize of performing in
Las Vegas
and winning $100,000.00 cash! Yes, the series ran for 9 episodes, a full season, and is now airing in Canada on MuchMoreMusic and on WestJet Airlines. And the next countries to possibly get it are Australia and England. So it's kind of neat to be seen all over the world and not actually be there LIVE. No, I never had any say in who'd I wanted to be with, but I did suggest I'd like to be a with a female celebrity because I really think that magic needs a female star magician and I'd like to be the one to help that along! Plus hangin' out with a hot cute girl never hurts.
CW: How serious was this for you? Did it bother that your magician Kimberly Wyatt got bounced so early? Tell our readers just a bit about working with her?
It was very serious for me. My reputation was on the line, but also you can teach someone all your knowledge but sometimes if they can't grasp it either, it's out of your hands. It didn't bother me too much that Kimberly left half way through the show because, as of episode 4, I really started to see her start to lose the interest... and also become distracted. She wanted the tricks I routined for her, but she didn't want my coaching on HOW they should be done. It's like having Richard Petty the race car driver give you his super nice NASCAR race car... and you can drive. But to drive a RACE CAR isn't like driving your Honda, Toyota, or BMW. You need to be coached. And if you go out and drive a NASCAR like your own car, you'll probably run yourself off the track. And that's exactly what Kimberly started to do; she wanted the tricks but not the coaching, and she ran herself off the tracks.
Kimberly was wonderful to work with the first 3 episodes, and then for episode 4 and 5, I found it a big challenge because she wasn't taking my coaching and thought she knew the better way. "You can bring a horse to water but you can't make them drink it!" But over all, I really respected her and what she has accomplished for herself and being one of the Pussy Cat Dolls.
CW: Onto cigars... What are you enjoying as you work this interview? I'd hope you'd have a smoke while you did this.
Actually, I am sitting in the same room as the photos were taken of me smoking the cigars in my suit after my show. I am smoking a Montecristo Court 44 X 5 " that was handmade in the
Dominican Republic
. A fan actually gave it to me after my show last night in the Stardust Theatre.
CW: Many of us, though certainly not all, consider our enjoyment of cigars a quest or a journey. But many find it a journey that often brings us back home sometimes. Where do you find yourself?
That is such a good question. I like my cigars after I have accomplished something - a reward, a time-out for myself... a time when I can sit back, relax and think of the journey I just traveled, whether it be a TV show I just finished shooting, a 'live' 1" hour show I just finished performing, or maybe a new joke or trick I have put into my show that worked and got a great laugh. It takes me away from the world for an hour to sit back, have a drink, enjoy a good cigar, come down from the adrenalin of the show and reminisce about the past, present and future.
CW: Do you stick with cigars you've been smoking since you began? Are you on the lookout for new things to smoke? Are the two mutually exclusive for you?
I am always on the lookout for new things. I love Cigar Weekly for the updates on the new cigars and the old ones brought back around. I love trying new things to see what might be better or more fulfilling.
CW: What is your daily routine? Here on Cigar Weekly's bulletin board, we talk about cigars. Many smokers here have their 'rotation' of cigars, and those that make a regular rotation are usually prized. As for me, I'm more of a time and place kind of smoker, and a bit more loose than some. I often smoke whatever cigar calls to me when I open the humidor. How do you select your smokes on a daily basis?
You know, I am very similar to you. I am very much a time and place kinda smoker. I am so lucky to travel the world on a daily basis from Asia to Europe to the USA . I smoke whatever hits me at the time I'd like to have a cigar. It might be one that I have taken with me from my humidor at home in Las Vegas or one that a fan or producer has given me on the road touring.
CW: Do you bring a humidor or a selection of cigars with you on the road? If not, how do you indulge? Local shops? What's it like as a smoker on-the-road? What other epicurean delights accompany your love of the leaf?
I don't bring a humidor on the road with me usually, but I request one in my hotel suites that are stocked with Montecristo No. 2s (6 1/8) and Especial No. 2s, Cohiba Robustos and Siglo ls (44 X 5 1/2), and Romeo y Julieta Churchills and Coronas. Sometimes, if I have time, I will visit local shops to see what selection they have and maybe even sit down and have a cigar with the owners... and hear some local stories if I have the time. I also like a nice Cognac or a good bottle of Merlot or Cabernet Sauvignon, preferably from the country I am in, to try their brand of leisure.
CW:
Let's shift gears just a bit, if you don't mind. I saw a video of you hosting an awards show. And as best as I can tell, you seem to spend at least sometime in that smoker's paradise,
Hollywood
and
Los Angeles
. What kind of anti-smoking peer pressure have you encountered? What about the general public?
I haven't really encountered any anti-smoking peer pressure, to be honest with you. I only smoke cigars and I am really aware that if someone isn't a cigar smoker, the smell can be really a turn off. Since I am in the public eye a lot, I am really aware of where and when I am going to have a cigar and enjoy it... Usually, it's in a cigar club or jazz club. If it's in
California
, it usually has a really nice outdoor patio with a great ambience to enjoy the cool evening in
Hollywood
and some great music. Or even after a 'red carpet' event, I'll go to an 'after party' and it's usually an indoor/outdoor party, so a bunch of us will usually light-up a nice big one and enjoy an hour of show business stories we all like to share, of time on the road or the countries we've visited.
CW:
How has the
Las Vegas
ban changed
Las Vegas
in your view? Has it affected performing artists and the performing arts there at all? And has it changed you as a smoker at all?
The Las Vegas ban hasn't affected me at all. Smoking is still allowed in the casinos and the cigar bars... Gambling, drinking and smoking will always go hand in hand.
CW: I realize that a lot of your performance on stage requires two hands. Do you think you could ever get away with enjoying a cigar WHILE you work, kind of like Ron White does in his stand-up? Do you think that would help or harm your image? Although I'd wager that agreeing to this interview, it's a part of who you are.
For my comedy I could use a cigar as it does add to character and image. But right now a cigar isn't in my image... maybe when I get older, but I do have so many young, young kids watching me, I don't want them to all think it's OK to smoke. You have to be really careful when you are in the public eye a lot. I know George Burn's IMAGE was a cigar, the comb over grey hair and his round glasses - it really worked for him but worked more for him the older he got. So right now, I think it could harm my image on stage, but off stage is my time and it's a wonderful way to wind down after a show.
CW: How did you find CW and what, from that point, attracted you to us? As an aside, here, if you've looked at the forums here at all, you undoubtedly know there's a large population of guys who'd enjoy the opportunity to welcome you to their hometowns by sitting and enjoying a cigar with you, right?
I found Cigar Weekly by searching the net looking for new cigar products and seeing what is out there in the Cigar world, and really loved what Cigar Weekly had to offer the readers and what an enjoyable read it was.
Anytime I am on tour in your readers part of the world I'd love to enjoy a cigar with them... sit back and hear a few local stories! Isn't that what life is about? - stories, memories and a good cigar! Your readers can always write me at www.murraysawchuck.com
I think I can say that the readers of Cigar Weekly are grateful to you for taking this time with us. For myself too, and all our editors, thank you for your time and candor. It's nice for us to get a peek into this world of entertainment through the lens of a fellow smoker.
Photos courtesy of www.murraysawchuck.com
Taken by Elena Obukhova, Odessa, Ukraine.
_____________________________________________________________
Thomas Bender (TommyBB) is a husband and father of two who hails from Greater New Orleans, Louisiana. He enjoys fine cigars, good food and even better friends, usually at the same time in some form or fashion. Often times, at least in the fall of the year, these activities are also tied to following the Fighting Tigers of Louisiana State University. A library director at Notre Dame Seminary and Church musician, he spends entirely too much time and keystrokes perusing internet forums and doesn't know when to stop typing once he gets there.