Interviews
Cigar Weekly Interview with Carlos Diez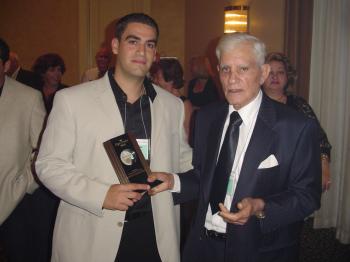 There is an old, often cited aphorism, "Blood is thicker than water," which aptly expresses the human yearning for and value placed in family. By and large, people set great store in doing what's best for their families, and see them as being at the center of their own efforts. Hardly any field of business endeavor is more family-oriented, or professes to be, than the premium cigar business, especially when one refers to the non-Cuban cigar industry. Consider but a few of the names that come to mind when cigars are discussed on a daily basis - names such as Fuente, Toraño, Newman, Cullman, Oliva, Padron, Perdomo, Cifuentes and Ozgener. These families and others to be sure, count among those that have been involved in making cigars for generations - a number having at one time been based in Cuba, though now carrying on the family tradition elsewhere.
Even a single trip to the Retail Tobacco Dealers' Association Trade Show provides evidence of this. Many of the exhibit areas are overseen by generations of these family members. Sons and daughters enter into the business of growing tobacco and rolling cigars, assume control of the company as their parents and grandparents get older, and inject their own fresh insights while aiming both to preserve and to improve the traditions and customs that have been laid down for them. Earlier generations are accorded their due respect by all who visit the exhibits at the RTDA and discuss cigars. The Fuentes have even established a presence on the World Wide Web with their Cigar Family site.
However, when it comes to cigars, the concept of family extends far beyond any literal meaning and industry dynamic. In fact, many dedicated cigar smokers who frequent cigar-related forums (like ours here at Cigar Weekly) on the web call themselves brothers, or members of the "Brotherhood of the Leaf." BOTL is a recognized acronym on most cigar-related forums, and is used as a term of respect and affection between smokers. (SOTL is also used with women who particularly enjoy smoking.)
Within the cigar industry, the passing of traditions from one generation to another is occurring right now among members of the Reyes family. Don Rolando Reyes, founder of the business that produces Cuba Aliados and Puros Indios (the firm, until now, calling itself Puros Indios), is a well-respected patriarch. Don Rolando is, and has been, the face of the company that he founded in 1975 after coming to the United States from Cuba. He later opened a factory in Honduras. This year, Don Rolando's grandson, Carlos Diez, becomes President of the company. Señor Diez's first act as president is to rename the company "Reyes Family Cigars", in honor of his family and grandfather. The company will also inaugurate a new web-site, logos and packaging as well as new cigar blends.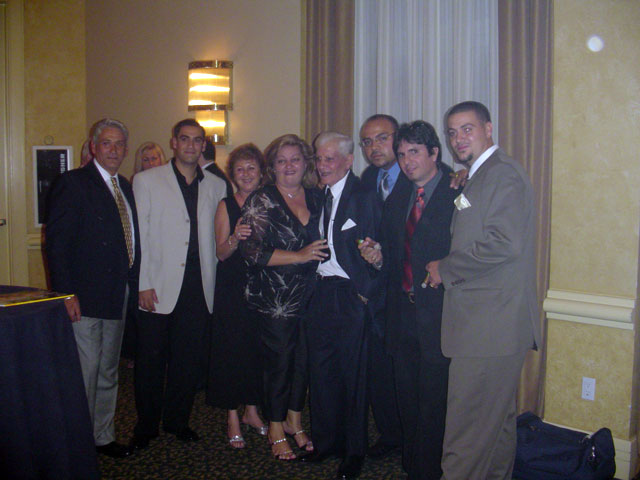 The Reyes family.
Cigar Weekly is honored to interview Carlos Diez at this key and optimistic time in the life of his family's company.
CW: Thank you so much for setting aside some time to spend with us, Carlos. Tell us a little about your family. What does your grandfather, Don Rolando, mean to you as a person? And how has he influenced your own view of your family's cigar business and the industry in general?
First of all, thank you for this opportunity. My grandfather is not only my grandfather but my mentor and my role model. As a child, while my friends looked up to Michael Jordan, Dan Marino, et al. and while I loved sports, my grandfather was the world to me. I always wanted to do what he was, in some form or fashion. Naturally, this was tobacco-related. I have been surrounded by cigars in one way or another since I can remember.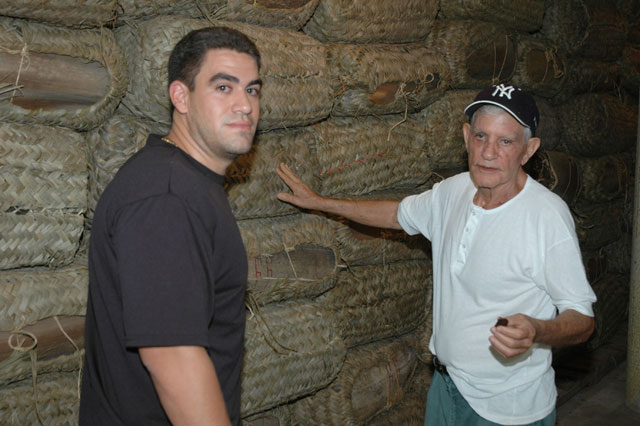 New Reyes Family Cigars president Carlos Diez and Rolando Reyes.
CW: He (Rolando Reyes) was interviewed by David Savona in the January/February, 2006 issue of cigar Aficionado. He seems to be a unique man. Do you share any of his idiosyncrasies?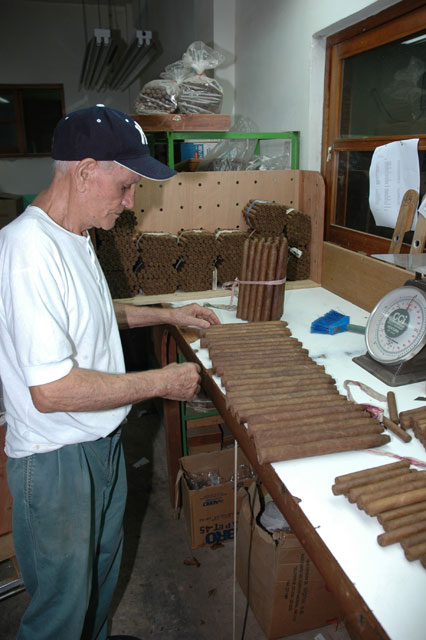 Rolando Reyes.
That is funny and my family says I'm a mini Rolando Reyes Sr. I'm quite the introvert, just like my grandfather. I am also very detail oriented and love to be at the office. I cannot imagine not working. Actually, let me rephrase - this is not 'work' - this is my life. I love tobacco.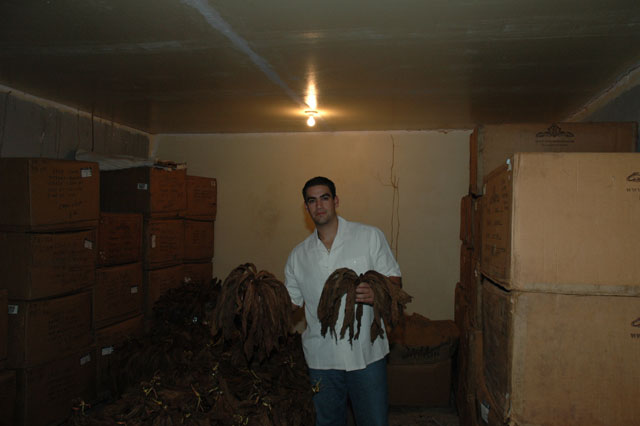 Carlos Diez doing hands-on work.
CW: When did you first think you were going to make this company and cigar-making your life's work? Had you aspired to being President of the company? Was it your grandfather's decision to retire at this time? And was his retirement a surprise to you or anyone else?
As I mentioned on a previous question, as a child I always felt I would follow in my grandfather's footsteps and work with tobacco. Obviously as a child, I had no clue about blending, marketing, fermenting, etc. I just knew I wanted to be around tobacco - the smell, the people. I also want to make it known that my grandfather has no intentions of retiring - even at 85 years old. He feels that I have finally earned the right to take more of a leadership role for our family.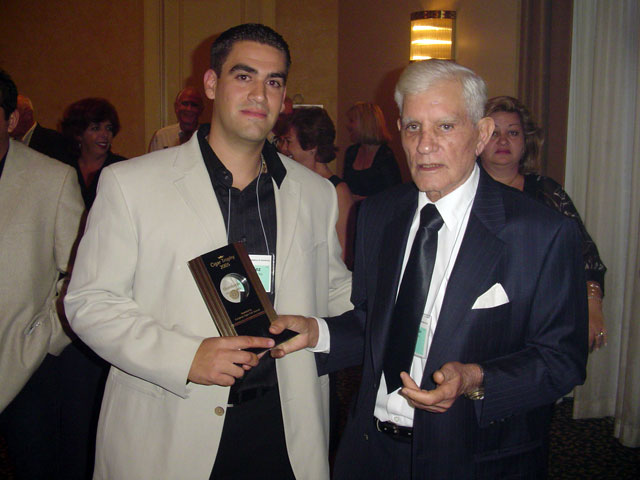 Don Rolando Reyes and new president, Carlos Diez recipients of the 2005 European Cigar Cult Journal Honduran award.
CW: Whose idea was it to change the name of the company from Puros Indios to Reyes Family Cigars? Was this a difficult or easy choice?
My decision 100%. My grandfather was initially against it because as I said earlier, he does not like the limelight or any press. He is all about his brands, namely Cuba Aliados & Puros Indios.
CW: How do you see this change affecting the company?
(Laughs) For starters, it will be much easier to pronounce! But seriously, I am reaffirming my dedication to this company and we are going through a rebirth for 2008. Tradition Reborn!
CW: What is your mission for the company?
I want to focus all of my work & effort on one name, one brand, one theme - the Reyes Family. It is who we are; it is what I believe in. I know the market, I've seen the changes, I know what it takes and, now is the time to take my company to another level.
CW: Is this mission very different from your grandfather's? Or, does the continuation of his philosophy still remain at the core of the company?
The philosophy is the same - we have that "old-school" mentality. My grandfather has been a cigar maker since the 1930's. He has not changed his views at all. As a matter of fact, he has no clue about what is in style or what isn't. He just lives to make cigars. If you smoke them, thank you, if you don't, he smokes them. It's that simple. I'm a bit different - if you don't smoke my cigars, I'm going to find a way or a blend that you will enjoy. I will take the time to figure that out. I love marketing as well as blending.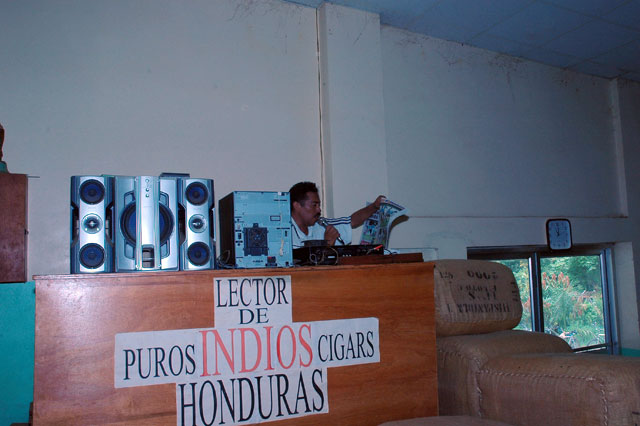 The lector at the Puros Indios fabrica.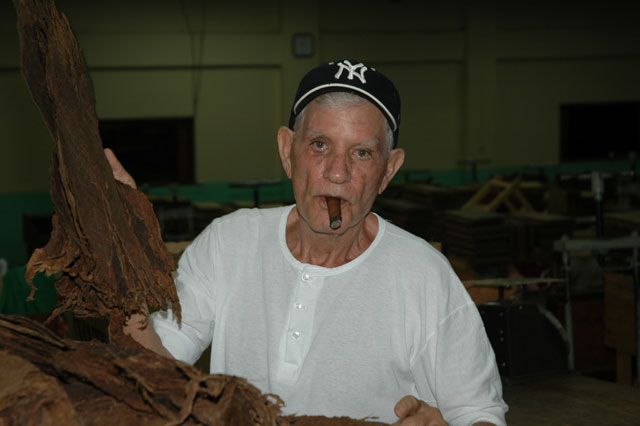 Rolando Reyes in his environment, smoking a Puros Indoios.
CW: How do you see the company evolving over the next one to five years? Do you think it is possible to plan beyond such a time frame in this business?
You have to have short, mid and long term goals. In the short term, we are aware of the tax proposals and the SCHIP. We have seen states adopting tobacco tax increases, tobacco bans, etc. It is my job to somehow be prepared to overcome any new tax hit my company will face. Other than that, I don't want any explosive growth. I am happy with a slow, controllable growth. We are a very small operation and intend to stay that way. We have weathered many different storms and are still here, doing what we do best - making cigars and enjoying the camaraderie the industry is about.
CW: Which marca and vitola are your favorites? Do you smoke only Reyes Family cigars? If not, who else's cigars do you like?
I have 3 children and I feel as if you are making me pick a favorite - but if I have to, my favorite cigar is the one that is about to hit the market. It is my first blend, our Premier line. It has a select Costa Rican Maduro wrapper, binder & filler from Condega & Jalapa, Nicaragua. It will hit the shelves in January, 2008.
CW: I have been able to smoke a few of the Cuba Aliados Anniversary cigars, which marked their debut at the Houston RTDA show in August of 2007. How long had this cigar been in development? What is your impression of it, and how do you think cigar smokers have taken to it?
We made a small batch - only 100,000 - 200,000 of these cigars to commemorate my grandfather's 83rd birthday. It took me about a year to finalize the blend. Now that you asked what my favorite cigar was, this happens to be my 2nd favorite - lol. Smokers have taken a big liking to the 4x48 size- the "Short" We saw the need for a quick little smoke and I believe this size really accentuates the blend. I love it in both wrappers - the 6 year aged Ecuador Sumatra and the 3 year aged Corojo version.
CW: What's been your best selling brand over the years?
Undeniably, it has been the Puros Indios.
CW: Are you planning to add new vitolas to existing lines? Are you planning to eliminate any?
We eliminated almost half the sizes from the Cuba Aliados & Puros Indios lines. It was simply an inventory nightmare. Not to mention it complicates things at the store level. Moving forward, all of our lines will have an average of 4 to 5 frontmarks.
CW: Are there any new leaf varieties you like and are planning to utilize? Which of these seems the most interesting? Will any of these possibly lead to new brands?
The new Premier line will be the first time we use Costa Rican leaf as our wrapper. I am also tinkering with a Cameroon blend but the Cameroon leaf has been difficult to work with lately. I am hoping to debut a Cameroon blend in late 2008 if all goes well. There is no guarantee because tobacco is as unpredictable as the stock market. You never know what can happen.
CW: If so, which new brands should smokers be looking for in the future?
Our Premier line will launch in January. I am currently working on our first Cameroon blend.
Some of the members of our forums also have some questions for you.
Ticker (Rick Welsh):
I'd love to hear why the old blend Cuba Aliados can't be recreated.
When we got the distribution rights back from JR, my grandfather decided to change the wrapper from an Ecuador Sumatra to Corojo, simply because our Puros Indios blend already used Sumatra and we wanted to differentiate the 2 blends. More importantly, it was virtually impossible to recreate that blend because of the abuse the soil at those farms had taken throughout the boom, and since we weren't using that tobacco, the owners at these farms had already contracted the land to other manufacturers. We also wanted a sort of 'rebirth' for the brand.
ElkTwin (Roger Farnsworth):
I've had cigars from boxes of Puros Indios and Cuba Aliados that seemed as if they were cut from pine dowel, and others that drew like wind tunnels. For a long time, there seemed to be no consistency at all. However, I've heard the new lines exhibit better construction. Why did it take the creation of new boutique lines to solve some of those problems? And what is being done to address the construction problems that have plagued those cigars for years?
Yes, we did run into some construction problems in the late 1990's. I must admit, our factory was not prepared for the growth. Thus, the reason for the new factory we built.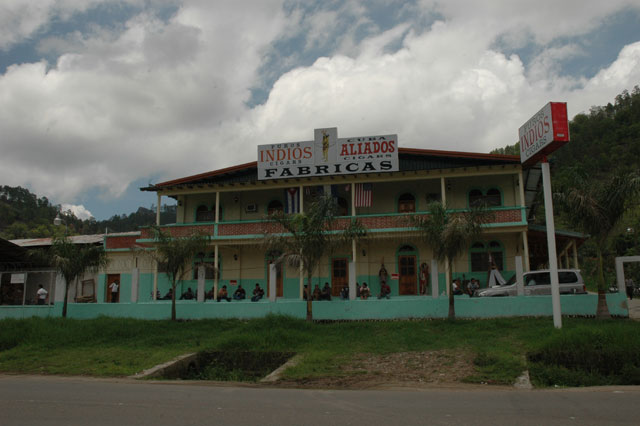 Exterior of the Puros Indios fabrica.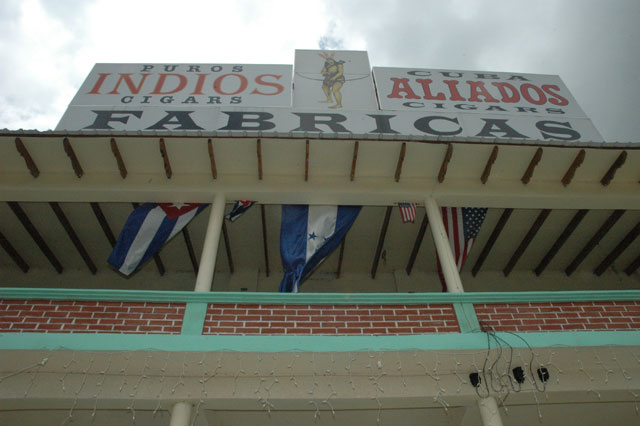 Puros Indios factory.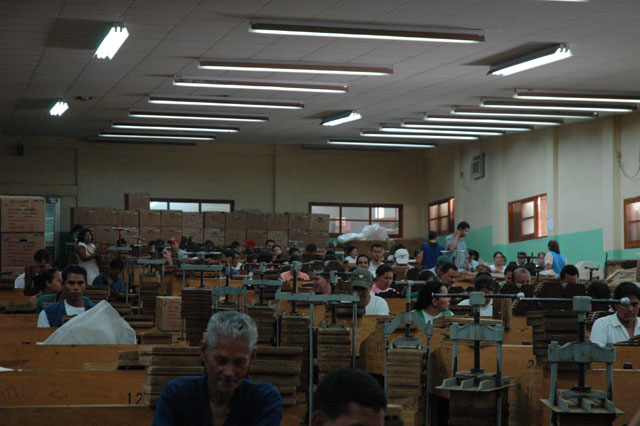 The galera.
After some time and personnel changes, we finally were able to oversee production and adapt to the growth. Our main problem was the new rollers arriving from other factories brought really bad habits with them. For example: not rotating the filler while applying the binder. These defects are really hard to catch and unless you're using a draw tester (which we are implementing in 2008), the cigars will seem fine, because they will weigh the same as a well made cigar. To make things even worse, you really don't find out about a problem like that until after you've made thousands of cigars, aged them, boxed and shipped. Then, once we start hearing the complaints from the customers, it's a guessing game as to which cigars might be plugged and which are ok, and worst of all, how many of these defective cigars are still on the retail shelves and in our warehouse.
I remember calling about 60 stores a day asking them to please try the cigars on their shelves and give us a verdict, so we can replace them ASAP. Thankfully the stores were very supportive and understanding. They did us the favor of relaying our replacement cigars and apologies to the consumers. Basically Roger, to not drag this out any farther, it was by far, a complete nightmare. The good thing that came from this, though, is that I learned a lot, and implemented preventive measures that would not allow this problem to ever resurface.
There is talk of the introduction this year of a line with a Cameroon wrapper. How would the blend of a cigar have to change in order to take advantage of the rich spiciness of the Cameroon wrapper leaf?
Unfortunately, the cameroon won't be available until late 2008, if that. I am working hard on this blend but the current crop of Cameroon was not what I wanted. I believe the Cameroon wrapper is very strong in proportion to the filler so when I blend with this wrapper, I tend to use moderate filler tobacco from Nicaragua & the Dominican Republic so the filler remains neutral.
Why are we seeing so many cigars with a ridiculously large ring gauges?
The market wants large ring gauge cigars. After Robusto , Toro & Torpedo, the 6x60 size is the biggest seller for us.
TheJD (Jon Davis):
I'm always curious to see what cigar companies are doing in the "Global War on Tobacco". I've heard a lot from Lew (Rothman of JR Cigars) and from (Rocky) Patel. Have the people at Puros Indios been active?
We have been supporting the CAA and the ICPCR for a long time. I have met with congressmen from Florida and also regularly meet with Rocky, the Padron Family, Christian Eiroa, Jonathan from Drew Estates and many other manufacturers to discuss how to battle legislation. I assure you that I have been at most, if not all the manufacturer meetings. I just don't come out the next day with a press release stating I was there. It's a tough fight and unfortunately it takes up a lot of time, but it has to be done for our industry to survive, and on a side note is it nice to see the industry united. I make it a point to educate all cigar smokers and advise them to help us out in this fight. At this stage, I still belive many smokers are unaware of what is going on and the ramifications these taxes have on our industry & livelihood.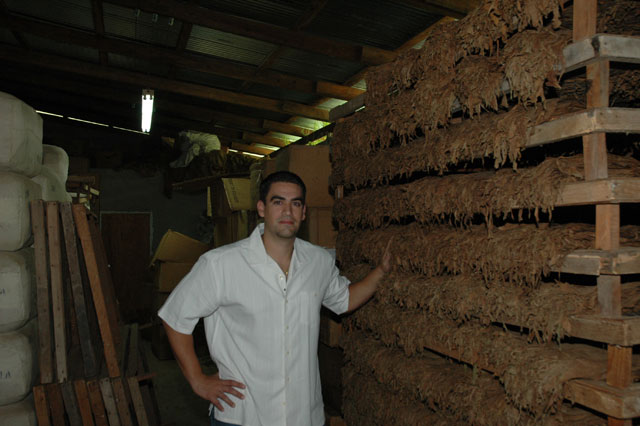 Carlos Diez with againg tobacco.
---
Thomas Bender (TommyBB) is a moderator and contributing editor of Cigar Weekly. He hails from Greater New Orleans where he resides with his family and contributes his share of the air pollution of the area with cigar smoke as well as running his mouth online more than any human being should. He enjoys gathering with friends and family to partake of good cigars, good food and camaraderie when not coaching youth sports, or playing Church music. He's also been known to wear a good hat from time to time.