Lifestyles
A Rich Pour - Column No.5: Smoke on the Water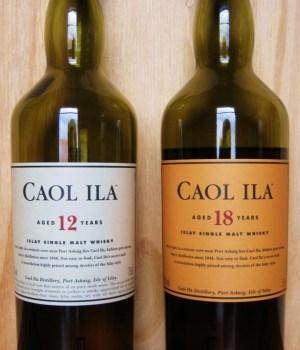 Elemental Evocation
Islay, the most southerly of Scotland's Inner Hebrides, lies off Argyll's western coast, north from the Giant's Causeway of County Antrim in Northern Ireland. Geography aside, Islay, for me, represents the center of the whisky universe.
Sea, earth, wind, fire and hardy inhabitants unite to produce Islay's native drink. The potion is genuine to its core - a straight shot of palpable malt and salt laid over smoldering peat.
First Fires
Islay's whisky roots reach back to the early 1700s, when the Campbells of Shawfield became Lairds. The Campbells encouraged extensive cultivation of barley by enlarging plots and easing lease terms. In return, tenant farmers transformed the island into a pot-still paradise.
Being Islay-based aided tax evasion, and at one time over 200 whisky makers operated illicit still-sites. Lagavulin Bay and other sheltered coves nearby offered proximity to fresh water, grain and peat, as well as ready access to the mainland market.
The Building of Bowmore
Some, however, dreamed of more than small-scale agriculture and pot-stilling. Daniel Campbell the Younger, for instance, envisaged a central residential community, and set about establishing the village of Bowmore on Loch Indaal. He also granted entrepreneur David Simson a construction permit, whereupon Simson erected houses and grander edifices of unspecified purpose. Not surprisingly, a number of Simson's grander edifices ended up as portions of Bowmore Distillery, founded 1779.
Kildalton Trio
The late 18th and early 19th Centuries were heady times for Islay distillers, particularly those clustered along the southeastern coast. Within a short period, they consolidated the shoreline's hodge-podge of pot-stills into three larger distillery sites. Ardbeg became the focal point of a well-populated village and attained renown, while Lagavulin and Laphroaig grew and gained fame far afield.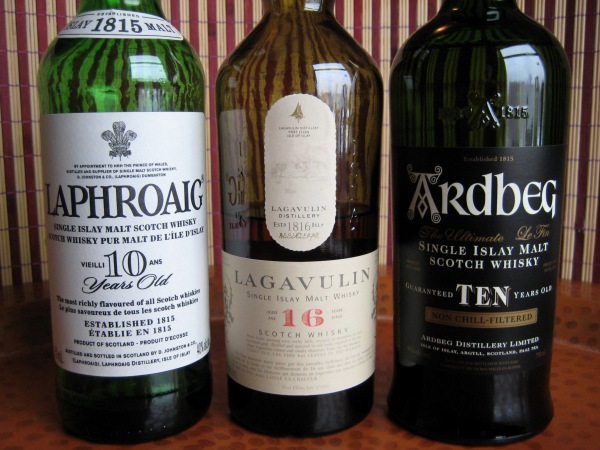 Peat reigns supreme... The famed Kildalton trio in standard dress
Silver Linings in Dark Clouds
Then disaster struck. Shrunken revenues and a potato blight infestation led to poverty and evictions. Even the Laird was forced to sell his holdings in order to stave off monetary ruin. The despair tainting Islay life during this period seemed eerily symbolized by Donald Johnston's deathly fall into a vat of Laphroaig whisky.
Some events brightened these otherwise dim days. Alexander Ker Mackay established Port Ellen Distillery. Lochindaal opened across the waters from Bowmore. And Hector Henderson christened Port Askaig's Caol Ila. Never mind that Henderson sold out, that Lochindaal suffered numerous administrative changes, or that Mackay declared bankruptcy. Islay whisky now flowed from three more localities.
Following the Campbell era, John Ramsay, a key figure in developing the continuous still, took over much of the island's real estate. Ramsay, besides making a success of Port Ellen, realized that the old crofters-aid policy had stood Islay in good stead. His tact and a burgeoning late 19th Century spirits trade benefited local whisky makers mightily.
Late Bloomers and Blends
1881 marked a fine year for the islanders, with two new distilleries joining the whisky chorus. While the Harvey brothers built Bruichladdich near Port Charlotte, Bunnahabhain rose beside the Sound of Islay. These contemporary complexes sprang up just as the Scotch industry's most ebullient period of expansion took hold.
Central to this growth was the introduction of blended Scotch whisky, a concept innovated by Andrew Usher and refined by many illustrious competitors. Great blenders realized Islay spirit could contribute unique qualities to their whiskies.
Tough Times
Unfortunately, misery lay beyond the boom cycle of the late 1800s. War, Prohibition, the Great Depression and dwindling markets led to distillery closures. Islay did not escape unscathed.
1929 proved particularly calamitous, as Bruichladdich closed and Port Ellen suspended its distillation runs. Century-old Lochindaal shut down permanently.
All was not doom and gloom, though. Laphroaig sidestepped Prohibition by exporting whisky to the United States under the guise of medicine - a stretching of the truth, scent and therapeutic properties notwithstanding.
Then came the disheartening 1980s and 1990s. Port Ellen closed its doors in 1983. Not so far away, bleakness beset Ardbeg as it languished from neglect. Bruichladdich similarly nose-dived, shutting down in 1995.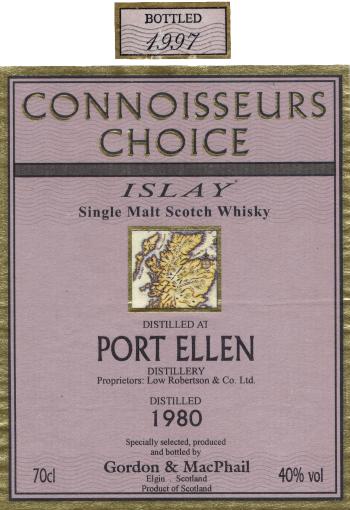 The whisky of Port Ellen... Gone, but not forgotten!
Resiliency and Renewal
Nevertheless, the people of Islay remained stoic, even hopeful. Ileachs continued to farm, to dig peat bogs, to man maltings and to make whisky. Their persistence would be rewarded.
In 1997, Ardbeg sprang back to life. And little less than four years later, Bruichladdich was rejuvenated. Islanders once again had their 'Magnificent Seven' distilleries.
The Power of Peat
The drying of barley grains over peat-burning kiln fires lies at the heart of Islay whisky. Debates may rage over what local grain, water and climate contribute. No one doubts the importance of Islay peat.
Peat is tremendously water-retentive, and needs to be cut and air-dried prior to combustion. Islay peat tends to be more phenolic than others, and can also emit kelp-like and briny scents.
Every Islay distillery once harvested and burned its own stockpiles of peat. But on-site maltings are costly as well as labor-intensive, and only Bowmore and Laphroaig still retain them. A huge maltings plant at Port Ellen now provides the balance of Bowmore's and Laphroaig's needs, as well as supplying all of the other distilleries on the island. These days, chances are that the smokiness in your dram of Islay single malt whisky was infused into the barley grains at Port Ellen.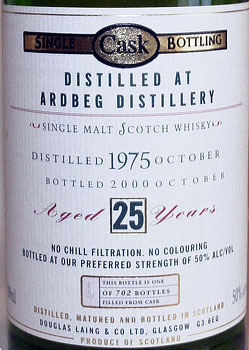 A rare independent bottling of Ardbeg that showcases
the contribution of this distillery's long-closed maltings
Where's My Whisky?
Hundreds of years of perseverance and tradition have to account for something. The proof is in the bottle!
Whenever I sip Port Ellen, I lament a grand Islay distillery lost. The whisky of Port Ellen conveys sweet, sweet barley enveloping enough seaside substance to lure a cat.
Laphroaig resembles a tidal wave of Old Spice aftershave, and emits a mélange of marine scents like no other. Composed and confident, Laphroaig's concentrated medicine goes down in buttery smooth fashion - a true classic, especially at cask-strength.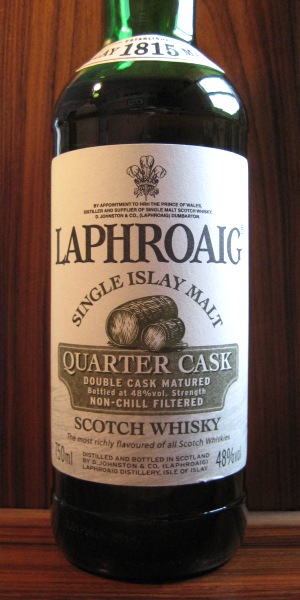 Finished in a Quarter Cask though it may be, this Laphroaig
definitely offers far, far more than a 'quarter' of the flavour.
Lagavulin - if ever a name evoked a whisky's character! Once a rowdy if amiable monster, the standard edition long ago gained four extra years and even dared to feign elegance. Recent cask-strength issues display brilliant clarity. As for the wickedly profound Distillers Edition, I look upon it as Beethoven-in-a-bottle.
Caol Ila pulls no punches, and exudes pungent herbal and medicinal scents along with flashing tornado-twists of flavor. With greater maturity, it acquires length and elegance to counterpoint the brawn. It's all too drinkable.
Bunnahabhain may be a dark horse, providing as it does a rather innocuous depiction of the flavors of Islay. Nonetheless, all of the essential components are present. Bunnahabhain is a fine pour for those who prefer pleasure over palate shock.
Bruichladdich also comes across in a less boisterous and practically smokeless manner, though it's certainly no shrinking violet. This whisky has undergone a remarkable transformation from its dusty demeanor of days past, and offers bite-size fruit and brine leading to crisp, spicy oak - a real charmer.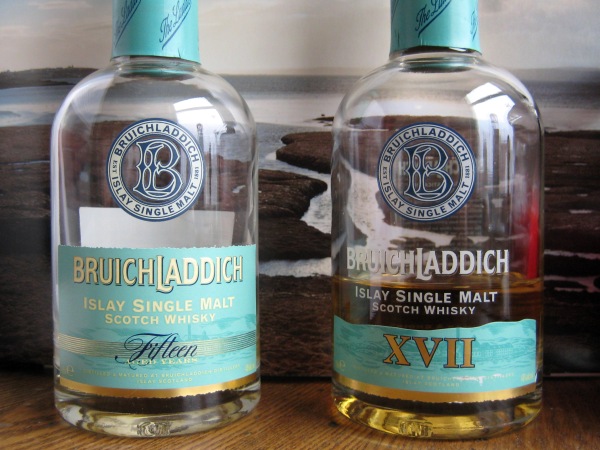 Less pungent? Perhaps. Less delicious? Certainly not.
Bowmore's wide range of seashore delights sports a sophisticated edge. This whisky really begins to shine past a decade or so, the various seaside nuances deftly balancing one another. More venerable bottlings evolve toward a penetrating, tightly focused style, sherried roundness often seeping from the oak.
Ardbeg - the penultimate Islay potion. I make no apologies. To smell its symphonic aroma and to taste its lightning bolts of bittersweetness that precede smoke, smoke and yet more smoke is to almost be there. The precise delineation of the various aspects is breathtaking.
Smoke on Smoke
If Islay single malt sounds alluring, then pairing it with a fine cigar is doubly tempting. Hebridean whisky's pungent expressiveness seems made to match with tobacco, the smokiness and fresh sea nature of the drink serving to draw out and complement the spiciness and earthiness of the leaf, while the spirit's sweeter core of barley grain plays to the rounded richness of the cigar.
As with any marriage of alcoholic beverage and tobacco, there are two principal factors to consider. Firstly, ensure the intensity of one does not overpower the other, as carefully matching relative strengths will permit whisky and cigar to work in tandem. Secondly, choose between a single malt that acts as a foil to the characteristics of the cigar and one that parallels the cigar flavorwise.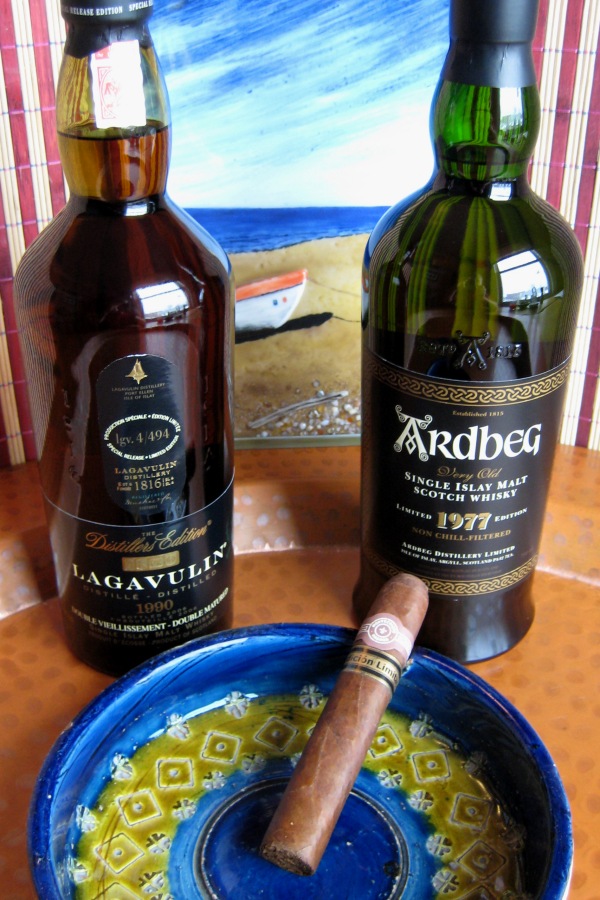 Smoke-laden wonders that stretch the boundaries of the taste experience
The balance between sweetness and dryness is primary to deciding whether to contrast or coordinate beverage and cigar. As an example, the oak-induced dryness of some older whiskies will contrast with, and consequently throw into greater relief, the riper, sweeter nuances of a tobacco blend. On the other hand, such single malts will tend to meld tastewise with a drier, woodier, spicier cigar.
Everyone's palate and preferences being different, the combination of whisky and cigar requires some experimentation on your part. And this is where the fun begins. Here's a suggestion. Set flame to one of your favorite vitolas, pour yourself a dram of Islay single malt, close your eyes and breath in deeply. I wager you'll smell the kiln fires burning away at the center of the whisky universe!
Some Further Reading
With consent of my publisher, portions of this column have been drawn from "The Tumbler's Guide to Single Malt Scotch Whisky: Armchair Reference Manual & Field Guide" (Copyright © 2003 Doug Kuebler & Topeda Hill Publishing, Inc., Baldwin Mills, Québec, Canada www.topedahill.com).
I also suggest you search out two other books I've consulted in preparing this article...
Brian Townsend's "Scotch Missed: The Lost Distilleries of Scotland" (Copyright © 1997 Neil Wilson Publishing Ltd., Glasgow, Scotland - www.nwp.co.uk) offers a glimpse behind the doorways of numerous distilleries that have either ceased producing whisky or disappeared altogether.
Andrew Jefford's "Peat Smoke and Spirit: A Portrait of Islay and Its Whiskies" (Copyright © 2004 Headline Book Publishing, London, England - www.headline.co.uk) is informative, engaging and highly recommended.
---
Doug Kuebler (Jazznut) is an inveterate aficionado and collector of wines and whiskies from around the world. Doug has organized wine and food seminars, and written extensively on wines and liquors. His latest book set, The Tumbler's Guide to Single Malt Scotch Whisky: Desk Reference and Field Guide, is available from Topeda Hill Publishing.