Lifestyles
The Virtual Gourmand - Column No. 6d: The Perfect Finish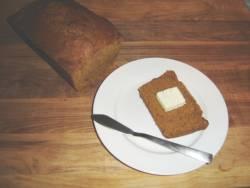 OK folks, now we get to the good stuff. The kids' (and many parents') favorite part of any meal... dessert. I'm going to give you several recipes for festive holiday desserts. Some are coveted secret recipes and some are ones I've found that I think are especially good that were written and developed by others. As they say in south Louisiana... It's all good.
Chocolate-Pecan Pie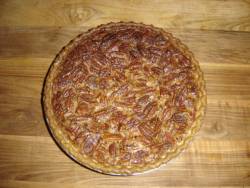 The secret recipe makes the quintessentially perfect Chocolate-Pecan Pie.
I'll confess... this is my all-time favorite dessert. When I lived in New Orleans, my next-door neighbor (the person who introduced me to my wife) used to make me one of these every year for my birthday. This was a great honor, as her individual pecan tarts were a coveted item at the office Christmas party every year. I tried to duplicate the recipe many times but never got it just right. I finally got her to give me her secret and I'll share it with you... as long as you keep it a secret.
* 4 eggs, slightly beaten
* 1 C. sugar
* 1 C. dark corn syrup
* 2 T. butter, melted
* 1.5 oz. (1 shot) Godiva liqueur
* 1-½ C. pecans (whole or chopped - your pick)
* 1 C. semi-sweet chocolate chips
* 1 9" deep-dish pie crust, unbaked
Preheat oven to 350 degrees. In a bowl, combine eggs, sugar, corn syrup, butter and liqueur thoroughly. Add chips and nuts. Pour into pie crust and bake 55 minutes or until center just barely jiggles when jostled. Cool. Best served with a scoop of vanilla bean ice cream.
Candy Bar Pie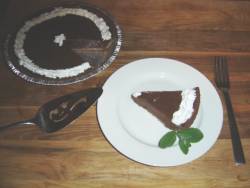 The phrase "Easy as pie" was probably referring to this little slab of chocolate heaven.
This recipe couldn't be easier and it has endless room for creativity. Experiment with different types of crusts (graham, granola, I've even seen them made out of pretzel bits) and different liqueurs to create new flavors. Chocolate and crème de menthe for a grasshopper pie, chocolate and Kahlua for mocha, chocolate and creme de banana, chocolate and Bailey's... the possibilities are endless. The recipe calls for milk chocolate, but I usually use half milk and half semi-sweet for a more pronounced chocolate taste. It really doesn't help at all to use inferior chocolate, either. Cheap chocolate doesn't taste as good.
Here's what you need:
* 1 chocolate cookie crust
* 8 oz. Milk chocolate (a big Hershey bar)
* 1 oz. Liqueur
* 8 oz. Non-dairy whipped topping (like Cool-Whip)
* extra whipped cream for garnish
Break the chocolate into pieces, In a glass bowl, add the chocolate and liqueur and melt slowly in the microwave, stirring every 20 seconds, about 1 minute. Fold the whipped topping into the chocolate mixture until combined. Pour into cookie crust and smooth out. Place in a level spot in the freezer and let it freeze overnight. Remove pie from freezer about 30 minutes before serving. Serve with extra whipped cream for garnish.
Rich, Fudgy Brownies
This recipe appeared in a recent issue of Fine Cooking and it has quickly become not only a family favorite but an often-requested recipe by anyone who tries them. A couple of these puppies and a scoop of vanilla ice cream and you'll be in a state of chocolate Nirvana (if not a sugar-induced coma).
Yields one, 9-inch square pan of brownies. Serves sixteen.
* 8 oz. (1 cup) unsalted butter; more softened butter for the pan
* 3 oz. (2/3 cup) unbleached, all-purpose flour; more for the pan
* 2 C. sugar
* 4 large eggs at room temperature
* " t. pure vanilla extract
* 2-" oz. (¾ cup) unsweetened natural cocoa powder
* " t. baking powder
* " t. table salt
Position a rack in the center of the oven and preheat oven to 350 degrees. Butter and flour a 9-inch square metal baking pan, tapping out the excess flour.
Melt the butter in a medium saucepan over medium heat. Remove the pan from the heat. Whisk in the sugar, followed by all 4 eggs and vanilla. Stir in the flour, cocoa, baking powder and salt, starting slowly to keep the ingredients from flying out of the pan and stirring more vigorously as you go. Stir until the batter is smooth and uniform, about 1 minute.
Spread the batter into the prepared baking pan, smoothing it so it fills the pan evenly. Bake until a toothpick or skewer inserted ¾ inch into the center of the pan comes out with just a few moist clumps clinging to it, about 40 minutes. Let the brownies cool completely in the pan on a rack.
Pumpkin Spice Bread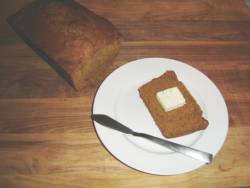 Tastes like Grandma's pumpkin pie, but in a loaf instead of a crust.
OK, I'll admit it. I hate pumpkin pie. I think this has less to do with the actual flavor of the pumpkin or the spice mixture used in the dish, but rather an aversion to the texture of the pie, which mimics the texture of boiled squash (which, essentially, prepared pumpkin is). Instead of the traditional pumpkin pie (which you can find a recipe for just about anywhere this time of year), I prefer to make this quickbread from my great-grandmother's recipe. It has all of the flavor of the traditional pie, but with a more toothy texture I find much more appealing. It might also appeal to those who don't really have much of a sweet tooth or might not want a sugary dessert after a heavy Thanksgiving meal. I especially like it toasted under the broiler with butter for breakfast with my coffee.
* 1-¾ C. all-purpose flour
* 1 t. baking soda
* 1-" C. sugar
* 1 egg, beaten
* 1 C. pumpkin
* 1 t. cinnamon
* " t. salt
* " t. nutmeg
* " C. (1 stick) margarine, melted
* 1/8 t. ground cloves
* 1/3 C. water
* " C. walnuts (optional)
Sift together dry ingredients in a mixing bowl. Make a well in the center. Add margarine, pumpkin, egg, and water. Mix until smooth. Pour into a greased and floured loaf pan and bake for an hour and 15 minutes at 350 degrees.
I hope that some part of this series will make your Thanksgiving (or Christmas... turkey isn't just for November) feast tastier or easier to prepare. From my house to yours... may your holiday season be filled with plenty of friends, family, good food, good cheer, and produce many fond memories to be cherished forever.
---
Contributing Editor and CW Executive Chef Jason Clabaugh (BigO) hailed from New Orleans before Hurricane Katrina devastated the city and has settled in a suburb of Atlanta. With the addition of a new baby to his family he's refocused his energies on fatherhood and a new project bringing his famous mango-habanero salsa and unique barbecue sauces into commercial production.