Cigar Weekly 2009 Blind Review #5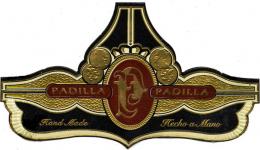 Padilla Hybrid 3-Cigar Vertical Tasting
Published Monday, June 21, 2009
Compiled by Doug McGuire (Mad Dawg)
This is the second 3-cigar "vertical" tasting that we've done since I became Cigar Weekly's Reviews Editor. I'm going to have to offer a bit of a disclaimer up front, however, as I do not know who provided the cigars themselves. They were originally sent to one of CW's owners, who stored them for a while before sending them on to me. By the time I got them, the trail had gone cold, so to speak. I'd like to thank that person anyway, and if you read this, please let me know and the review will be edited accordingly.
Information on Padilla's web site is a little scant, but here's what they had:
Hand crafted in the Dominican Republic
Hybrid of a Cuban seed with a Connecticut seed
Produces this unique hybrid wrapper grown in Ecuador
Churchill (7 x 50)
Strength: Medium
Wrapper: San Andres negro
Filler & Binder: Dominican, Nicaragua, Honduras
Robusto (5 x 50)
Strength: Medium
Wrapper: Hybrid (Ecuadorian Sun-Grown)
Filler & Binder: Nicaragua, Dominican, Peru
Torpedo (6 ¼ x 52)
Strength: Medium
Wrapper: San Andres negro
Filler & Binder: Dominican, Nicaragua, Honduras
The reviewers were sent one cigar in each of these three sizes. I found it interesting that the filler blend and wrapper in the Robusto were different from those in the other two vitolas. That difference was definitely noted by the reviewers.
Pre-Smoke Comments
Fishin' Phil: Well made cigars. Visually pleasing, excellent draw and burn qualities.
TommyBB: I'm hoping there was some mistake. If this is a vertical tasting of a single line, it's disappointing from the outset. Each of the samples, a Churchill, robusto and belicoso are all of differing hue. The two parejos were fairly close in color, but the belicoso was significantly darker if not a Maduro, outright. The Churchill's cap unraveled immediately after I clipped it, and all I could do was to remove the pieces of the wrapper leaf where they stopped tearing off. The belicoso tunneled some on me, and burned very hot. Perhaps the windy conditions out exacerbated it. It was very windy when I smoked the Churchill, as well. Neither of these two held an ash for long, either. The Churchill's ash, actually displayed a bit of "exploding cigar" after the first drop, so obvious, my son sitting with me commented that it "looks like something from a cartoon." I don't remember anything untoward in the smallest vitola.
ronin: This was the vertical tasting. All samples were nicely rolled. A toothy wrapper with a nice cap. The roll on my cigars felt good. Upon clipping and testing them, I found them to be an easy draw. They all lit very well and produced nice volumes of smoke.
SLR: These cigars had excellent looking wrappers. Construction was excellent. All samples had firm feel, yet perfect draw. Nice rich Aroma filled the air. Overall nice looking well constructed cigars.
Elk Twin: A vertical tasting of three cigars, a Churchill, a robusto and a torpedo. Each cigar was a different shade of brown; the Churchill was the lightest in shade resembling coffee with cream. The robusto was the darkest, almost maduro in color, and the torpedo filled in the middle. They were all soft and spongy to the touch with the Churchill being positively squishy. Nice, clear wrappers with small veins. They were papery in texture. Pre-light draw tasted of dirt and laundry soap - like dollar store bubble bath.
H311oLHD: All three cigars in this blind tasting were of top quality. The chocolate brown wrapper of the torpedo and robusto seemed to match almost perfectly, while the Churchill was noticeably lighter than the other two. Each of these cigars had smooth wrappers, with minimal veins and a somewhat oily surface. Also, each cap was perfectly placed on the cigar, leaving no wrinkles or bunching. All of these cigars seemed to be somewhat loose in nature, but all were bunched well enough. The burn seemed to be the most consistent attribute of these cigars. I didn't have to touch up any of them as each burned straight producing a very pleasing white with light grey ash. The torpedo ash was the strongest, while the robusto and Churchill were definitely disappointing. The Churchill's ash was by far the most disappointing, as it ashed at about a ¼ inch, right onto my laptop (of course). The draw on the robusto and torpedo were both in between tight and perfect, while the Churchill's draw was almost perfect. The aroma for these cigars was pleasing, but I am not too much of an aroma person. I did notice that it did not leave much of a lingering smell in my room after smoking these cigars. It was not overpowering, and was enjoyable. I did not feel any burn in my throat while I smoked the robusto and torpedo, but did notice a light burn during the Churchill.
Augie754: All three cigars in this series were of similar appearance. They all had their share of problems including, slightly misshaped, some lumpiness, larger veins, and discoloration around the veins. The Churchill was the worst of the three, it being more misshaped than the others. However, the wrappers did have a nice brown color with a smooth leathery finish. They were of average appearance, but still looked good enough to smoke.
The construction of these cigars was also surprisingly similar. The draw was acceptable on all three, but just on the tight side. They seemed able to stay lit fairly well, except the robusto which needed extra puffs a couple times. The burn on all three was nearly identical; they started out burning at an angle for the first portion of the cigar and all evened out by the end. There were only a couple of touch-ups needed among the three. The ash was relatively solid on all three with a light gray color. Again they were average with their construction.
Smoke Comments
Fishin' Phil: Light woody flavor initially. A noticeable bitter aftertaste.
TommyBB: These three, again, really disappointed. The smallest size was the best of the three, but it only had a touch of sweet, nuttiness to it. The belicoso burned hot from beginning to end, and tasted as if I was sucking on a burning charcoal briquette, with an occasional flavor which tasted of soap or dish detergent. The soapy taste was not evident on the Churchill, although the other, more acrid burnt taste was present throughout.
ronin: Overall, all three cigars were very nice smokes. Good burn with a nice ash that never required any touch up. A touch of sweetness with a bit of spice taste.
SLR: These cigars had well balanced, sweet earthy flavors. Some bitterness at first, but the flavors became balanced and full as it smoked down. Not a powerful cigar, but enough good flavors that will satisfy cigar smokers.
Elk Twin: The draw was good, despite seeming under filled, but that was the extent of the positive attributes. Out of the chute, the cigars poured forth a dry, papery flavor that was not pleasant. That harshness faded quickly to... nothing. No distinctive flavors at all. No real strength or depth. Nada. Just a flat, blahness that carried suggestions of chemicals and detergent. The cigars all quickly developed an uneven burn that rambled back and forth as the cigar went along. The light, almost white ash flaked off at the foot and along the sides, and when tapped off revealed a long center cone. Soon after lighting the cigars became distractingly soft, especially the Churchill which got so soft it practically collapsed. In addition to a sharp, tannic finish that burned my tongue, the aroma was harsh and offensive. My wife uncharacteristically complained about its nastiness.
H311oLHD: I felt that the torpedo produced the best flavors of these three sizes. The torpedo was constantly changing, and kept me on my toes while smoking, while the robusto and Churchill seemed a tad one dimensional. For the torpedo, I noted nutty (almond) flavors being well pronounced throughout this experience. I also picked up on coffee flavors and at random times a buttery taste. The finish was leathery.
On the robusto, I noted that the cigar was very smooth and produced chewy smoke. Again, I picked up hints of nuts and coffee throughout and a very leathery finish. The Churchill produced similar flavors as the prior two sizes, except that it turned bitter and extremely leathery very early. I think this caused my enjoyment of the cigar to decrease considerably, as it required me to purge the cigar multiple times.
Augie754: The robusto and torpedo were similar in taste profiles; the Churchill however had an inches at the beginning that seemed out of place. The Churchill started very light and the flavor was thin - very mild. It had a cedar flavor with a touch of pepper. After the first inch it started into where the other two began. They were peppery to start with a touch of sweet spices. After a bit they pepper began to fade and the spices picked up. After the half way point the spices faded some and rich tobacco flavors with a hint of caramel sweetness ended the cigar. These flavors were appealing to me, however all three exhibited occasional off flavors throughout. There was a "green" flavors near the beginning, bitter flavors in the middle, and harshness toward the end. If they could eliminate these occasional bad flavors these would have been much, much better.
Summary Comments
Fishin' Phil: Very well made cigars that seemed to have potential. Unfortunately, the bitter aftertaste ruined an otherwise pleasant experience for me.
TommyBB: I HATE to pan any cigar. It's in my nature to find the good and emphasize it, especially where cigars are concerned. Sadly, there was not much to celebrate in these cigars. The smallest of the three clocked in at mild, but nothing special. The larger two, were quite hot, throughout, and it burned out any enjoyable flavor they may have. The colors of the wrappers were problematic for me. I can appreciate the positive aspects of most wrappers, but if the goal of cigar lines is consistency, then this needs to be rectified. I am not certain if the windy conditions in which I smoked adversely affected these, but I've smoked other cigars in the wind, and not had it affect the flavor. I hope for so much, from every cigar I smoke, it's difficult for me to give such a negative review and score.
ronin: Very nice cigars that I would recommend. I believe you could enjoy them anytime of the day. All samples were smoked while drinking coffee and I found them to pair with coffee very well.
SLR: These cigars were well constructed, burned well, and had an excellent draw. Generous smoke filled the palate with well balanced sweet earthy tobacco flavors. These samples were a joy to smoke.
Elk Twin: I soldiered on with each of these cigars, hoping for improvement, but could smoke none of these samples past the halfway point. I hope others found these enjoyable. I, however, did not.
H311oLHD: Overall, the torpedo was my favorite cigar out of this bunch. These cigars were mild, but the torpedo really produced a full-flavor experience, without the nicotine punch. They all were pleasing to look at, were well constructed cigars, and produced flavors that I really enjoyed. I would highly recommend the torpedo as a morning smoke, great with a cup of mild coffee, but I would be very hesitant to suggest the Churchill. I feel that there are simply too many great cigars out there, and this one disappointed me by becoming leathery and bitter too early. The robusto didn't sweep me off my feet as the torpedo did, but after another sample or two, I may change my opinion of it.
Augie754: All cigars had some flashes of a great cigar. Unfortunately, they all fell short with a list of issues that couldn't be overlooked. On the whole these cigars were just average. Perhaps with some further aging the problems could be erased, but this seems unlikely.
Scores
Reviewer

Appearance and
Construction
(0-5)

Burn
(0-5)

Draw
(0-5)

Aroma
(0-5)

Flavor
(0-10)

Taste and
Aftertaste
(0-10)

Overall
Quality
(0-10)

Total
(0-50)

Fishin' Phil

4

4

5

4

6

6

7

36

TommyBB

2.5

2.5

5

3

5

5

5

28

Ronin

4

5

4

4

5

5

6

33

SLR

5

5

5

4

7

8

8

42

Elk Twin

3

2

4

1

3

2

3

18

H311oLHD

4

4

3.5

4

8

8

8

39.5

Augie754

2.5

3

3.5

2.5

7

5

5

28.5

Averages

3.57

3.64

4.29

3.21

5.86

5.57

6

32.14

To achieve the final score we throw out the high and low total scores then average the
remaining scores. For more details please refer to the Review Methods page
Review Results
Final Score: 33 out of 50 – 3.5 Stars – Above Average
There are times when I find myself disagreeing with the panel's evaluation of a particular cigar, but this is not one of those times. I did not note material difference in flavors between the three sizes, and found construction to be somewhat problematic in all of them. The individual cigars I smoked all had looser draws than I prefer, and I found the flavors to be a bit on the bland side for my tastes. That may have had more to do with the use of Dominican tobacco in the blend than anything else, but whatever the cause, the cigars were consistent in that regard.
All 3 sizes come packed in boxes of 20, which are priced in the $60-70 range.
---
All information in the Cigar Weekly Blind Reviews database is copyright the authors and Cigar Weekly. Unauthorized use is prohibited without express permission of either.