Cigar Weekly 2009 Blind Review #6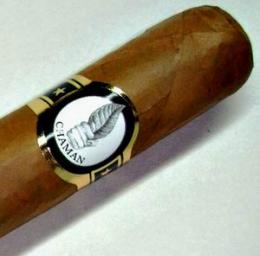 Vegas de Santiago Chaman Churchill (Capa Natural)
Published Monday, June 29, 2009
Compiled by Doug McGuire (Mad Dawg)
This is the third cigar from Vegas de Santiago that we have reviewed in 2009. The first two reviews were of cigars from the Secretos del Maestro line. (Links: http://www.cigarweekly.com/magazine/reviews/03-30-2009/cigar-weekly-blind-2009-review--2 and http://www.cigarweekly.com/magazine/reviews/06-01-2009/cigar-weekly-blind-2009-review--4)
"Chaman" means "shaman" in Spanish, and the name was chosen supposedly to denote the "magic" that went into their creation. Magic? Perhaps that's a bit strong of a word to use in describing a cigar, but our panelists certainly found much to like in these Churchills!
From the Vegas de Santiago web site:
"Chaman Cigars" are manufactured by Vegas de Santiago, in Costa Rica. The long filler and binder are from selected Costa Rican and Nicaraguan Tobaccos while the wrapper is a Connecticut leaf from Ecuador.
The cigars for this review were graciously provided by Rudy Niehaus and Lani Kaub Niehaus, Vegas Santiago SA.
Pre-Smoke Comments
Fishin' Phil: A nice looking cigar with a pleasant aroma. Draw was perfect, and it burned straight with a nice firm ash.
TommyBB: These two cigars were quite pretty, with a fairly smooth Connecticut-shade wrapper. The pre-light aroma and taste were very typical tobacco with a sweetness to it. It was quite agreeable, and inviting. Carrying one around in my leather case caused the wrapper to begin to unravel, but it was no judgment against the cigar or its construction. Strictly my own fault, was this.
ronin: A very nice looking Churchill sized cigar.. Nicely rolled with no tight spots. A light brown wrapper with a nice toothy feel. Overall appearance was very nice with light veins in my sample. After I clipped it, the draw was easy. The overall aroma of the cigar pre-lighting was very nice. This is a size I usually don't smoke but the appearance, draw and aroma of the cigar made this awaiting smoke appealing.
SLR: The cigar was smooth with some veins evident. Nice natural color, inviting looking. Firm feel, nice draw, overall a great looking cigar.
Elk Twin: Long, Tall Sally. this cigar was light in color, almost golden, with a faint lime tint to the wrapper. There was a slight curve to the length of the roll with the head swooping off to the right. Artfully applied wrapper and cap. Fruity pre-light flavor with a hint of camphor.
Augie754: The cigar is Churchill size, It appears to have a good solid shape with a smooth cap. The wrapper is light brown with satin finish with a touch of shine. There are a few small and medium veins, with a couple small lumps coming through from underneath. Overall this was a nice looking cigar.
This cigar's burn starts with a small runner, but corrects itself quickly, and burn straight there after. The draw started on the tight side and stayed this way until the end when it loosened to about perfect. The cigar felt solid and the ash was as well.
H311oLHD: This cigar had a very light, almost green wrapper that was more veiny than normal. The cap was nicely placed, but the bunch seemed a tad soft. The burn was perfect, I never had to make a single touch up, and performed outstandingly with about 15mph winds. Although I felt the bunch was a bit soft, it did not affect the smoking experience at all, and the draw was perfect. I really enjoyed the aroma given off by this stick. It was not an overwhelming scent; instead it was short and sweet. I'm not sure how to describe the aroma, other than it was very pleasing.
Smoke Comments
Fishin' Phil: Light slightly grassy flavor with just enough spice in the background to keep me interested.
TommyBB: Cigar #6 of 2009 was an interesting one. It had an underlying sweetness, but it was a changing cigar. Much like #4, from Vegas de Santiago, this one changed as it went. It was somewhat inconsistent. Just as I'd catch a nice flavor, something herbal, or woody, the next set of draws would be harsh and charred. Then I'd get another set of draws that would emphasize the sweetness of the cigar, and reveal another character, then the charred taste would return to the fore. So, this was not boring, at all. Not the best because of the inconsistency, but flavorful when on target.
ronin: Nice even light with a soft flame. My sample exhibited a nice medium flavor. The overall balance was nice with medium strength and body. It exhibited modest flavor with a light sweetness. It showed no bitterness, sharpness but I did notice a light saltiness as I smoked it. It did produce nice volumes of smoke. It burned very nicely producing a white/gray ash with no touch ups needed and the ash was fairly firm with a flat burn. It had a very light aroma.
SLR: Very nice cigar. It is dominated with sweet earthy tobacco flavors, with a dusty peppery finish. There is this sweetness to it that is pleasant and should appeal to a wide range of cigar smokers. If you enjoy sweet tasting tobacco flavors, this will not disappoint.
Elk Twin: The cigar was very light in strength and offered medium tobacco flavor. It took a long time for the smoke to travel the length of this cigar; sometimes 3-5 puffs were necessary to get a good mouthful of smoke, but once it came it billowed forth in large clouds. The flavors in this cigar were soft and subtle; despite it's large format this is not a powerful or overwhelming cigar. Some sweet fig and quiet hints of earth spice drifted in and out. The aroma was pleasant and mild, consistent with the taste.
Augie754: The cigar starts light with smooth flavors of spice and cedar. Some leather flavors came in after a few inches with a touch of creaminess as well. All these flavors increased after the half way point until the end when it came out a little harsh. The flavors were pleasant, although not very robust. It was medium flavored but only mild- medium bodied.
H311oLHD: I really enjoyed the flavor of this cigar. It began as a mild cigar, and eventually ended up as a medium. The first third, I experienced toasty nutty flavors, along with a nice buttery taste and a spicy aftertaste. The next third I noted more roasted flavors, maybe roasted nuts. I also noted that the strength began to pick up just a bit. Finally, during the last third I noted a bit of a bitterness creeping in that required a purge, but overall more of the same roasted/toasty flavors were present.
Summary Comments
Fishin' Phil: This was a pleasant mild cigar. Flavors were not "in your face", but they were interesting enough to hold my attention throughout. Summer is the time that I frequently look for a mild cigar to enjoy with some iced tea – this one would fill that bill nicely.
TommyBB: I enjoyed the two samples for review. The cigar was quite pretty with a lovely Connecticut Shade wrapper which then delivered a mildish flavor as promised. A cigar sweeter than some, when the flavor was "on" it was quite enjoyable. The flavor changed, almost every time I drew down the body of it; although, the flavor swings were pronounced from nice, woody, cedary, earthy and sweet, suddenly to a burnt, charred taste. It would then come back to its intended, mild agreeable flavors. It kept me paying attention throughout.
ronin: A very nice cigar. It burned nicely and was a very pleasant smoke. It would be a very nice cigar for an all day cigar. Nice draw and a touch of leather and nice burn. A very enjoyable cigar.
SLR: Overall, this cigar is well constructed, and great looking. Excellent sweet tobacco flavors. Surprisingly complex, this is an excellent cigar.
Elk Twin: While the strength of this cigar increased slightly as it went, it never got past the mild-medium point. The overall experience was pleasant. The ash was well behaved, solid and medium gray and the cigar burned straight as an arrow the whole way. Still, I rarely have time for a cigar of this length early in the day, and that's when this one would shine.
Augie754: This cigar had some nice flavors, but was a bit thin for me personally. I'd like something more robust. However, it might be a nice early morning cigar, or good to give to someone new to cigars.
H311oLHD: Overall, I really enjoyed this cigar. I thought it was very solid in its construction, and its flavors were very pleasant. For a smoker that really enjoys full bodied smoke, this would make a fantastic morning cigar. For the rest of us that aren't used to smoking LFDs on a regular basis, this cigar would make a perfect afternoon cigar, or maybe pre-dinner smoke. I imagine that it would be very good with a cup of Latin American coffee or a lighter bodied beer. I highly recommend it!
Scores
Reviewer

Appearance and
Construction
(0-5)

Burn
(0-5)

Draw
(0-5)

Aroma
(0-5)

Flavor
(0-10)

Taste and
Aftertaste
(0-10)

Overall
Quality
(0-10)

Total
(0-50)

Fishin' Phil

4

5

5

4

7

7

7

39

TommyBB

4

3.5

3.5

3.5

7

8

7.5

37

Ronin

4

4

4

4

5

6

6

33

SLR

5

5

5

4

6

7

5

37

Elk Twin

4

5

3

5

8

7

8

40

Augie754

3

4

4

4

6

5

6

32

H311oLHD

4

5

5

4.5

8.5

7.5

8

42.5

Averages

4

4.5

4.21

4.14

6.79

6.79

6.79

37.21

To achieve the final score we throw out the high and low total scores then average the
remaining scores. For more details please refer to the Review Methods page
Review Results
Final Score: 37.2 out of 50 – 4 Stars – Excellent

I found this cigar to be characteristically (for a VdS product) well made, with an excellent draw and a near-perfect burn. The natural wrapper was very smooth, almost vein-free, and extremely well-applied: a very pretty cigar to behold! To me, this cigar typifies what I mean when I say that a cigar doesn't have to be strong to be interesting. Although on the light side of medium bodied, the flavors in this cigar were complex and changed constantly throughout the smoke – a characteristic I value highly in any cigar. Enjoyed on a warm Texas afternoon, in a shady spot and accompanied by a tall glass of iced tea, it offered up nearly an hour and a half of enjoyment.
The Vegas de Santiago Chaman line comes in seven sizes:
Churchill (7x48)
Torpedo (6x52)
Robusto (5x50)
Corona (6x42)
Panetela (5x32)
Panetela Extra (5x38)
"Chiquititos" Cigarillos (4.5x24)
A variety of packaging options are available, from 3- and 5-packs to bundles of 50, with prices ranging from $12 to $139. All sizes are available for purchase directly from the manufacturer at the following web site: https://www.vegassantiago.com/shop/category.php?id=13749811
---
All information in the Cigar Weekly Blind Reviews database is copyright the authors and Cigar Weekly. Unauthorized use is prohibited without express permission of either.